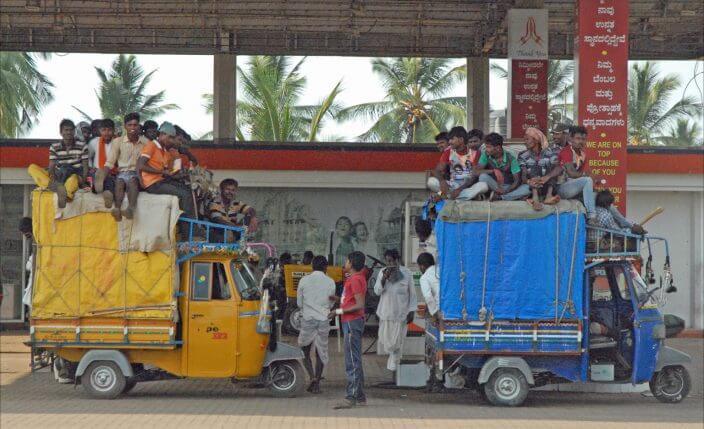 A journal that–all things considered–absolutely cannot earn money? A renowned private publishing company that becomes involved as a partner in such an undertaking? A Tower of Babel that aids communication? Transdisciplinarity that was not created by a "predatory community"? "Normal" professors who regularly expose themselves to one of the social media? All of this can be found at PHW and, since 2013, in ever increasing amounts. In the process, we have come a long way, gathered a lot of experience, discussed, experimented, and done much thinking. To some degree, we have reached our targets at the end of the first three years. Nevertheless, we now look very different from what we were in 2012, when we submitted our first funding proposal.
What have we become?
We started out modestly: At the beginning, we were pleased (and also somehow surprised) about every single registered access. In the meantime, we record a monthly average of 8000 readers (unique clients) from almost the whole world who generate around 90 000 page views (server statistics).[1] Our readers come from a wide range of countries. German-speaking countries and English-speaking western nations represent one focus. But we are also pleased to see strong interest in our contributions coming from the Ukraine, Russia, Latin America, and China.
We started off with 12 German-speaking authors from three countries who only published in German. Now, our contributions always appear in English and German and, where appropriate, additionally in the author's native language. We now also offer readers Spanish, Portuguese, French, Russian, Polish, Greek, Chinese and Turkish. All languages are welcome. This requires an enormous editorial effort, as expected, but also yields a nice result. A heartfelt thanks to our language editors is in order here![2] We are still very grateful that we could develop, in 2014, a technical solution for a multilingual presence that, under one URL, provides a teaser graphic and, above all, a collective commentary thread without a simultaneous, renewed separation of the language cultures. Special thanks here to Sebastian Fuchs (in Munich) for his technical support![3]
Meanwhile, we have 150 initial contributions; contributions that purposely provoke challenge and debate, that have a maximum length of 6500 characters, and that have been made easy to read on a small or large screen through a rhythmic structure and subheadings. At least 345 commentaries from all over the world, and often of about the same length as the initial contributions, have engaged actively with this food for thought. Many thanks, also for this. Science thrives on pluralistic, preferably debate and on productive controversy. It is good when a suitable platform like ours is used for this. And, gladly, much more of the same! Always more!
Structural Problems, New Solutions    
This success, however, has brought us to the limits of our work capacities and financial resources and, with increasing regularity, also beyond them. The cooperation contract with our publishing house partner, De Gruyter Oldenbourg, came to an end on 31 August 2016. De Gruyter Oldenbourg, this reliable and helpful partner, had supported our weird project with very substantial amounts of money since 2013. The very substantial start-up financing provided by the FHNW School of Education has also ended, after three years. It was thus necessary to find a solution for both the basic financing and for the additional costs caused by the project's positive development. This turned out to be extremely complex. Despite numerous enquiries and some very time-consuming grant applications, we were, regrettably, unable to convince any Foundation that it should support this unique project and its further development for another three years. I got the personal impression that most foundations, because of their own, increasingly profiled agendas, have lost their previous openness that allowed them to be curious about, and supportive of related, but maybe unusual, ideas and approaches that others put forward. Too bad. But perhaps there is still a courageous Foundation?
In the end, we didn't allow ourselves to become discouraged by this experience. The continuation of this project was made possible through a collateral Plan B, which had three components.
I am very pleased and proud to be able to announce that we have been able to acquire three new institutional partners for the Public History Weekly. In particular, I welcome and thank Prof. Thomas Hellmuth (University of Vienna), Prof. Peter Gautschi (Lucerne School of Education), and Prof. Krzysztof Ruchniewicz (Willy Brandt Center at the University of Wroclaw). These partners each bring new colleagues to our editorial team, and I also welcome them warmly. They are all listed here.
This made it possible to persuade the original founding partners – the FHNW School of Education (in Basle and other cities) [transitional funding] and the De Gruyter Oldenbourg publishers – to continue their financial support, for which I thank both institutions very heartily. The publisher donated also the extensive relaunch to the project; you can evaluate its creative components here.
Finally, we urgently need to build up a basis for self-financing ourselves, in order to obtain third party funding in the future, as well. We are, therefore, now cooperating with Google, which is why you see an advertising screen next to the contributions. Please don't let this disturb you; we hope that it will bring directly to us some revenue. What is more important is the founding of a friends' association for Public History Weekly, which I will return to later.
More Color! More Diversity!
We have repeatedly experienced that it is really not easy to enter into meaningful communication with cloistered academic language cultures such as English, German, Spanish, etc. The first and most fundamental precondition is, of course, that authors are willing to give us a well-formulated version of their texts not only in their own language, but also in English. But, and furthermore, one only experiences boundaries if one is willing to cross them. (A statement that reverberates, unintentionally, in these times.)
After all, who are the important authors in other academic language cultures who are, at the same time, willing to accept our format? How can we get in touch with them? The answer to the last question is: in many, many different ways. This kind of communication also provided the key to answering the first question. I am really pleased to be able to present to our readers a new team of 30 core authors who come from all corners of the world.
I would also like to take this opportunity to thank those of our core authors who, after a long-standing and reliable cooperation with us, have now become guest authors. I am looking forward to receiving their contributions!
We need your support!  
Finally, and I must emphasize this in particular: we urgently need the support of our loyal readers, in order to continue with our not-for-profit and Open Access project. We would like to offer the intellectual community that has developed around Public History Weekly the opportunity to participate institutionally in our project. To this end, a PHW Friend's Association was recently founded. It is possible not only to become a supporting member but also to make donations, either multiple or one-off, depending on the circumstances. The donations will only be used to support the journal's work on international understanding in the areas of Public History and the didactics of history and politics. This applies, above all, to covering expenses incurred by voluntary editorial staff members in Poland, Austria, Switzerland, and Germany, as well as the enormous costs that arise from our multilingualism.
My message: In the long run, such a transdisciplinary, multilingual, Open Access project like Public History Weekly is only possible if its readers take an active interest in it: through courageous and wise commentaries that also take into account the language background of the initial authors, and also through a small financial contribution to our friends' association.
On behalf of all participants, I thank you all in advance for both.
_____________________
Web Resources
_____________________
[1] Page views are not the same as the so-called accesses; these reflect a technical process and are many times larger than the given value.
[2] 2013-15: Dr Mark Kyburz, http://www.englishprojects.ch/about / since 2015, September: Jana Kaiser, kaiser /at/ academic-texts. de
[3] Sebastian Fuchs, http://www.fuchs.ws.

_____________________
Image Credits
Sur la route (Inde) © Jean-Pierre Dalbéra 2014 (via flickr)
Recommended Citation
Demantowsky, Marko: Exploring the Open Access. Editorial. In: Public History Weekly 4 (2016) 27, DOI: dx.doi.org/10.1515/phw-2016-6882.

Editorial Responsibility
Eine Zeitschrift, die, unter dem Strich, grundsätzlich kein Geld verdienen kann? Ein renommierter privater Verlag, der sich als Partner auf so etwas einlässt? Ein babylonisches Sprachgewirr, das zur Verständigung hilft? Transdisziplinarität, die nicht von einer "Beutegemeinschaft" erfunden wird? "Normale" ProfessorInnen, die sich regelmäßig einer Form sozialer Medien aussetzen? Das alles gibt es bei PHW, sogar in zunehmendem Maße, seit 2013. Dabei haben wir einen weiten Weg zurückgelegt, viele Erfahrungen gemacht, diskutiert, experimentiert und nachgedacht. Am Ende der ersten drei Jahre haben wir unsere Ziele einigermassen erreicht. Und doch sehen wir jetzt ganz anders aus als 2012 gedacht, als wir den ersten Förderantrag gestellt haben.
Was ist aus uns geworden?
Wir haben bescheiden begonnen: Zu Beginn freuten wir uns (und waren irgendwie überrascht) über jeden einzelnen Zugriff. Inzwischen verzeichnen wir monatlich im Durchschnitt 8000 verschiedene LeserInnen (unique clients) aus fast der ganzen Welt, die ca. 90'000 Seitenaufrufe generieren (Serverstatistik).[1] Die Herkunft der LeserInnen ist breit gestreut. Ein Schwerpunkt wird von den deutschsprachigen Ländern gebildet sowie auch von den englischsprachigen westlichen Nationen. Aber wir freuen uns auch sehr über ein starkes Interesse für unsere Beiträge aus der Ukraine, aus Russland, aus Lateinamerika und aus China.
Angefangen haben wir mit 12 deutschsprachigen AutorInnen aus drei Ländern, die nur auf deutsch publiziert haben. Jetzt erscheinen unsere Beiträge immer auf Englisch und auf Deutsch, gegebenenfalls auch noch zusätzlich in der Muttersprache der AutorInnen. Man kann bei uns also auch Spanisch, Portugiesisch, Französisch, Russisch, Polnisch, Griechisch, Chinesisch oder Türkisch lesen. Jede Sprache ist uns willkommen. Das bedingt einen gewaltigen editorischen Aufwand, wie man sich denken kann, führt aber auch zu einem schönen Ergebnis. Hier darf ein herzlicher Dank an unsere Sprachlektorate nicht fehlen![2] Dass wir 2014 eine technische Lösung für einen mehrsprachigen Auftritt entwickeln konnten, der unter einer URL, mit einem Aufmacher-Bild und v.a. mit einem gemeinsamen Kommentarthread sich zu präsentieren vermochte, ohne die Sprachkulturen gleichzeitig wieder zu separieren, freut uns noch immer. Vielen Dank an dieser Stelle für die technische Unterstützung an Sebastian Fuchs in München![3]
150 Initialbeiträge liegen inzwischen vor; Beiträge also, die bewusst auf Anstoß und Debatte angelegt sind, die nicht mehr als 6500 Zeichen aufweisen und die speziell für den großen oder kleinen Bildschirm durch eine rhythmisierende Gliederung und Zwischenüberschriften lesbar gemacht werden. Nicht weniger als 345 Kommentare aus der ganzen Welt, die häufig ähnlich umfangreich sind wie die Initialbeiträge, haben sich aktiv mit diesen Denkanstößen auseinandergesetzt. Dafür möchten wir uns herzlich bedanken. Wissenschaft lebt von der pluralen, möglichst internationalen Debatte und auch von einer produktiven Kontroversität. Gut, wenn eine geeignete Plattform wie unsere dafür genutzt wird. Und gerne noch mehr davon! Immer mehr!
Strukturelle Probleme, neue Lösungen
Allerdings hat uns dieser Erfolg auch an den Rand unserer Arbeitskapazitäten und finanziellen Ressourcen gebracht, immer öfter auch darüber hinaus. Der Koopertionsvertrag mit unserem Verlagspartner De Gruyter Oldenbourg hat zum 31.8.2016 geendet, dieser verlässliche und hilfreiche Partner hatte seit 2013 mit sehr erheblichen Summen unser verrücktes Projekt unterstützt. Auch die erhebliche Anschubfinanzierung der Pädagogischen Hochschule FHNW hat nach drei Jahren geendet. Es musste also eine Lösung sowohl für die Basisfianzierung wie auch für die durch die positive Entwicklung verursachten zusätzlichen Kosten gefunden werden. Dies erwies sich als außerordentlich kompliziert. Leider konnten wir trotz zahlreicher Anfragen und auch teils sehr aufwändiger Anträge keine Stiftung davon überzeugen, dieses ungewöhnliche Projekt und seine Fortentwicklung für weitere drei Jahre zu unterstützen. Ich habe den persönlichen Eindruck gewonnen, dass die meisten Stiftungen durch eine eigene, zunehmend profilierte Agenda die frühere Offenheit verloren haben, neugierig und unterstützend auf die sachverwandten, aber vielleicht ungewöhnlichen Ideen und Ansätze zu blicken, die andere hervorbringen. Schade. Aber vielleicht findet sich ja doch noch eine wagemutige Stiftung?
Wir haben uns am Ende von diesen Erfahrungen nicht entmutigen lassen. Es war ein begleitender Plan B mit drei verschiedenen Ansätzen, der die Fortsetzung dieses Projekts ermöglichte.
Ich bin sehr froh und stolz, hier mitteilen zu können, dass drei neue institutionelle Partner für Public History Weekly gewonnen werden konnten. Insbesondere gilt mein Willkommen und Dank Prof. Dr. Thomas Hellmuth (Universität Wien), Prof. Dr. Peter Gautschi (Pädagogische Hochschule Luzern) und nicht zuletzt Prof. Dr. Krzysztof Ruchniewicz (Willy-Brandt-Zentrum an der Universität Wrocław). Diese Partner bringen jeweils neue KollegInnen in unsere Redaktion, die ich hiermit auch herzlich begrüße. Hier finden Sie eine Übersicht.
Auf dieser Basis war es möglich, auch die Gründungspartner, die Pädagogische Hochschule FHNW (Basel u.a.) [Übergangsfinanzierung] und den Verlag De Gruyter Oldenbourg für eine Fortführung ihres finanziellen Engagements zu gewinnen, wofür ich beiden Institutionen sehr danke. Der Verlag spendet dem Projekt zur Fortführung einen umfassenden Relaunch, dessen gestalterische Komponente Sie hier begutachten können.
Schließlich müssen wir dringend eine Eigenfinanzierungsbasis aufbauen, um auch künftig Fremdunterstützung erhalten zu können. Wir kooperieren deshalb ab jetzt mit Google, sie sehen deshalb ein Werbefenster neben den Beiträgen. Bitte lassen Sie sich davon nicht stören, wir erhoffen uns davon zumindest kleinere direkte Einnahmen. Wichtiger ist die Gründung eines Fördervereins Public History Weekly, auf den ich noch einmal komme.
Bunter! Vielfältiger!
Dass es gar nicht so einfach ist, die in sich abgeschlossenen wissenschaftlichen Sprachkulturen z.B. des Englischen, Deutschen, Spanischen usw. wirklich ins Gespräch zu bekommen, das haben wir immer wieder erfahren. Es setzt ja auch erst einmal nur voraus, dass AutorInnen willens sind, uns eine gute Fassung Ihrer Texte nicht nur in Ihrer Muttersprache, sondern auch in Englisch zur Verfügung zu stellen. Aber auch darüber hinaus erfährt man Grenzen immer erst dann, wenn man versucht, sie zu überschreiten. (Ein Satz der ungewollt nachhallt, in dieser Zeit.)
Wer sind überhaupt die wichtigen und gleichzeitig für unser Format offenen AutorInnen in den anderen Wissenschaftssprachkulturen? Wie kommt man zu Ihnen in Kontakt? Für letztere Frage gilt: sehr, sehr unterschiedlich. Und in diesen Kommunikationen lag gleich auch der Schlüssel zur Beantwortung der ersten Frage. Ich bin nun wirklich froh, den LeserInnen eine neue Riege von 30 StammautorInnen aus aller Herren Länder präsentieren zu können.
Ich möchte aber auch nicht versäumen, den StammautorInnen zu danken, die nach langer und verlässlicher Kooperation nun in den Status von GastautorInnen gewechselt sind. Ich freue mich auch auf ihre künftigen Beiträge!
Wir brauchen Ihre Unterstützung!
Schließlich, ich muss es noch einmal eigens betonen: Wir brauchen dringend die Unterstützung unserer treuen Leserschaft, damit wir unser Non-profit- und Open-Access-Projekt fortsetzen können. Der Gemeinschaft, die sich rings um Public History Weekly intellektuell gebildet hat, möchten wir Gelegenheit geben, auch institutionell teilzunehmen an unserem Projekt. Zu diesem Zweck wurde kürzlich ein "Förderverein Public History Weekly" gegründet. Es ist sowohl möglich, dort unterstützendes Mitglied zu werden, als auch mehrfach oder einmalig – je nach Möglichkeit – zu spenden. Die Mittel werden ausschließlich dafür verwendet, die internationale Verständigungsarbeit der Zeitschrift auf dem Gebiet der Public History und der Geschichts- und Politikdidaktik zu unterstützen. Das betrifft v.a. die Spesen, die für die freiwilligen Redaktionsmitarbeiter aus Polen, Österreich, der Schweiz und Deutschland anfallen, sowie auch die enormen Kosten, die die Multilingualität verursacht.
Auf Dauer wird solch ein transdisziplinäres, multilinguales Open-Access-Projekt wie Public History Weekly nur möglich sein, wenn die Leserschaft daran Anteil nimmt: durch mutige und kluge Kommentare, die auch die sprachliche Herkunft der/s InitialautorIn berücksichtigt, aber auch durch einen kleinen finanziellen Beitrag für unseren Förderverein.
Im Namen aller Beteiligten danke ich Ihnen im Voraus für beides.
_____________________
Webressourcen
_____________________
[1] Seitenaufrufe / Pageviews sind nicht die sogenannten Accesses, die ein technisches Geschehen abbilden und bei einem Vielfachen des angegebenen Wertes liegen.
[2] 2013-15: Mark Kyburz, http://www.englishprojects.ch/about / seit September 2015: Jana Kaiser, kaiser /at/ academic-texts. de
[3] Sebastian Fuchs, http://www.fuchs.ws.

_____________________
Abbildungsnachweis
Sur la route (Inde) © Jean-Pierre Dalbéra 2014 (via flickr)
Empfohlene Zitierweise
Demantowsky, Marko: Unterwegs im Open Access. Editorial. In: Public History Weekly 4 (2016) 27, DOI: dx.doi.org/10.1515/phw-2016-6882.
Redaktionelle Verantwortung
Copyright (c) 2016 by De Gruyter Oldenbourg and the author, all rights reserved. This work may be copied and redistributed for non-commercial, educational purposes, if permission is granted by the author and usage right holders. For permission please contact the editor-in-chief (see here). All articles are reliably referenced via a DOI, which includes all comments that are considered an integral part of the publication.
The assessments in this article reflect only the perspective of the author. PHW considers itself as a pluralistic debate journal, contributions to discussions are very welcome. Please note our commentary guidelines (https://public-history-weekly.degruyter.com/contribute/).
---
Categories: 4 (2016) 27
DOI: dx.doi.org/10.1515/phw-2016-6882
Tags: Academia (Wissenschaftsbetrieb), Digital Change (Digitaler Wandel), Editorial