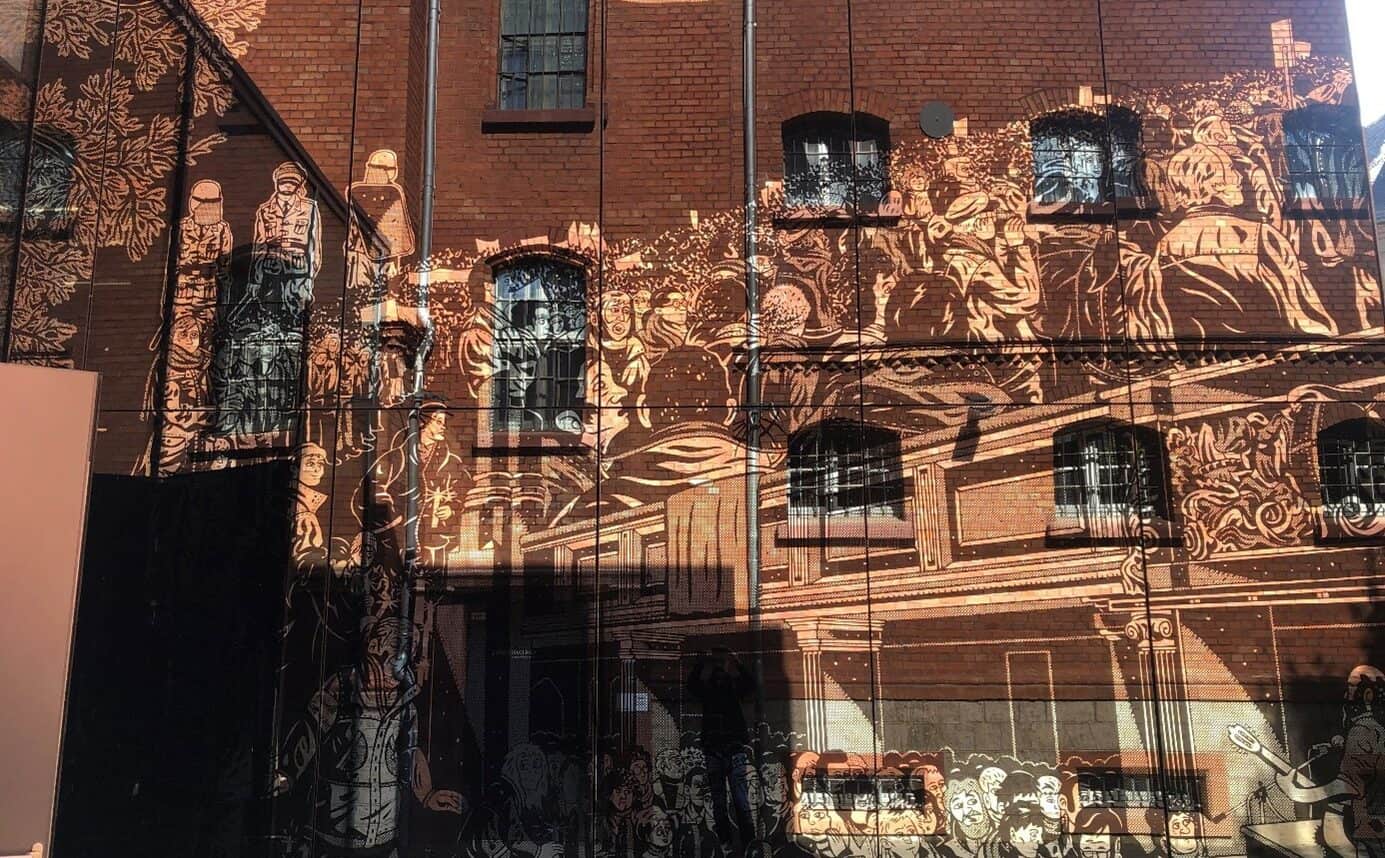 Monthly Editorial: October 2023
Abstract: Both historical culture and popular culture play an important role in our understanding of the past, as well as in the ways in which we remember and use that past. In disciplinary terms, however, the two are still largely kept separate. The aim of this issue of PHW is to explore some of the varied links that currently exist between history, public history, and popular culture.
DOI: dx.doi.org/10.1515/phw-2023-22004
Languages: English
Today, no one has to "justify engaging with popular culture; instead, there may be pressure to justify oneself if not doing so."[1] This statement by Matthias Schaffrick, a specialist in German studies, is definitely true for cultural studies. However, what about history, history education, and public history? Given the multiple interactions between research and public discourses on a given topic: are popular culture and historical culture ultimately just two sides of the same coin?
Popular Culture Beyond Sober Appraisal…
Thirty-five years ago, the German cultural anthropologist Gottfried Korff (1942–2020), known for his intriguing and fundamental research on museology, argued that, in practice, "the ostensible interest in history is always threatened by an ahistorical banalization."[2] Referring to the musealization of the popular and the simultaneous popularization of the museum in 1980s Germany, he succinctly noted that "popularization is a suspicious word in German." It would evoke a wild mixture of—to use contemporary examples—Amazon delivery and podcasts, Netflix series and sewing classes, Instagram posts and school performances. Popularization, as Korff put it, "associates bland complacency with a dash of didacticism and well-behaved amusement."[3]
…and Late Enthusiasm
Since then, quite a lot has happened: aspects of popular culture play an increasing role in our understanding of and way of analyzing the past. Historical culture and popular culture are directly related to each other in everyday life, and they are also closely entangled in many ways.[4] While popular culture is a central research field in many philological and cultural disciplines—from linguistics, via English and American studies, to cultural studies—it is often overlooked, entirely or significantly, in history proper.
However, if we look at aspects of the popularization (of knowledge), now often labelled as "transfer", the situation differs. Popularization and transfer have been buzzwords in both the sciences and the humanities and thus also in the field of history for years.[5] To put it briefly: while research on popularization has become quite common, research on popular culture is still in its infancy, both in traditional branches of history and in public history.[6]
Clarifying the Status Quo
History and public history both primarily focus on manifestations and representations within the framework of historical culture. While academic research was long limited to traditional approaches to the preservation and interpretation of historical knowledge, cultural studies have opened up access to historical culture in significant ways.
In the German university system, which is our point of reference, most interest in popular-cultural practices is found in the field of empirical cultural studies/European ethnology. These practices can be understood as part of the historical knowledge of a society that is reflected in—among other things—the products of the mass media and the consumer goods industry, and which influences our understanding and perception of the past and thus also our historical memory. Until well into the 1990s, popular culture studies/empirical cultural studies were the only fields to take seriously influencing factors such as personal convictions, entertainment, marketing strategies, and commodification.
Popular Culture and the Role of Public History
Driven by society's increasing focus on "experience" (in German, we speak of the Erlebnisgesellschaft, the "experience society"), which has also affected the popular history market, (contemporary) history and public history have long started to adopt concepts from cultural studies, such as cultural practices, performance, emotion, and experience itself. This is obvious in both established fields such as museum studies as well as emerging disciplines, such as reenactment studies. The focus is no longer only on aspects of representation. Quite the contrary: nowadays the emphasis is on how people experience the/their past—and therefore (their) history. Thus, it is not surprising that a recent German introduction to public history includes key concepts such as "emotion", "experience", and "performativity."[7]
Nevertheless, the approaches of history and public history on the one hand, and empirical cultural studies on the other, (still) feel committed to their own methodological repertoires. The terms "historical culture" and "popular culture" often imply different aims, methods, and influences when it comes to our understanding and memory of the past.[8] This is surprising, given that diverse manifestations of popular historical culture undoubtedly belong to the widely branching family of popular culture—a family that includes, as the German popular culture scholar Kaspar Maase put it, "extraverted and introverted, vulgar and stuffy members."[9]
Popular Culture, Mass Culture, and Aesthetic Pleasure
Treating popular culture as an important arena, our aim is to look at the many—sometimes more, sometimes less obvious—entanglements between the various disciplines that deal with both popular and historical culture. According to Kaspar Maase, popular culture is synonymous with mass culture but also closely linked to an "aesthetics of pleasure" or "everyday aesthetic experience."[10] Maase's definition emphasizes practices of presence and participation, in short: aesthetic experience and pleasure.
Questions that public historians and scholars of cultural studies and cultural anthropology should discuss together, now and in the future, include: What differences (however subtle) can we find today in the way the two fields trace the historical component in popular cultural contexts? Are there already so many similarities that it is necessary to think about a new or better combination of methodological approaches? Is popular culture being used actively, especially in public history and contemporary history, to interpret history in the public sphere, to promote the study of and engagement with history, or to open up access to history to a wider public?
Contributions to the October Issue
This month's special issue opens with an article by Daniel Morat on aesthetic experiences in popular and historical culture. Public history sites, he argues, often advertise their offerings with the promise that visitors will be able to "experience history." From a historiographical perspective, this emphasis on experiences has frequently been criticized. Popular culture studies, on the other hand, have identified the "aestheticization of the lifeworld" as a central dimension of modern societies, one that allows a wide range of people to participate in cultural experiences. In light of these contrasting perspectives, the article discusses the advantages of a concept of aesthetic experience of the kind used in popular culture studies for the study of public history.
DOI: dx.doi.org/10.1515/phw-2023-22007
In week 2, Annekathrin Kohout addresses the relationship between popular culture, known for its transience and fleeting trends, and memorial culture, which is usually associated with notions of permanence. At first glance, these two "cultures" may not seem to have much in common. However, the author raises the valid question of whether the varied archiving practices of fans in pop-cultural contexts could not provide a unique entry point when it comes to questions of understanding and preserving the historical dimensions of our "broad present."
DOI: dx.doi.org/10.1515/phw-2023-22008
In week 3, Martin Butler focuses on the American drama series Yellowstone and its prequels. He analyzes the ways in which the shows renegotiate the myths of the American West and the Frontier. It becomes evident that the series' complex characters and multiple storylines, while challenging the one-dimensional view on the history of the West, subtly reproduce the familiar hegemonic narrative of settler colonialism.
DOI: dx.doi.org/10.1515/phw-2023-22009
Week 3 also includes a contribution to our Speaker's Corner on a key issue in public history. The X-Mem team focuses on the controversy surrounding the use of Virtual Reality (VR) to represent the past. They note that proponents see it as a time machine that provides a sense of immediacy and an emotional and affective connection to digitally reconstructed spaces and events. Critics, on the other hand, fear a loss of critical distance from the past, replaced by empathic identification, entertainment, and trivialization. In the form of a manifesto, the team of authors tries to transcend such dichotomies while proposing an analytical view of VR.
DOI: dx.doi.org/10.1515/phw-2023-22067
Week 4 features an article on performing the past by Juliane Tomann. She discusses the pastime of reenactment, which is increasingly popular around the world. Taking a do-it-yourself approach, reenactors perform the past in a playful, bodily, multi-sensory, and personal way. It is this "doing history" that constructs and creates meanings of the past performatively. In addition, the author discusses the connection between practices of "doing history" and "doing gender," arguing that the two are inextricably linked.
DOI: dx.doi.org/10.1515/phw-2023-22010
_____________________
Further Reading
Christine Gundermann [et al.], Schlüsselbegriffe der Public History (Göttingen: Vandenhoeck & Ruprecht, 2021).
Christoph Bareither and Ingrid Tomkowiak (eds.), Mediated Pasts – Popular Pleasures. Medien und Praktiken populärkulturellen Erinnerns (Würzburg: Königshausen & Neumann, 2020).
Kaspar Maase, Populärkulturforschung. Eine Einführung (Bielefeld: transcript, 2019).
Web Resources
_____________________
[1] Matthias Schaffrick, "Einführungen in die Populäre Kultur," in POP no. 15 (Autumn 2019), 110–117, cit. 110 (translation by the authors).
[2] Gottfried Korff, "Wird Kiezgeschichte salonfähig? Neuköllner Überlegungen zur Musealisierung des Popularen und zur Popularisierung des Musealen," in Experiment Heimatmuseum. Zur Theorie und Praxis regionaler Museumsarbeit, eds. Oliver Bätz and Udo Gößwald (Marburg: Jonas, 1988), 69–80, cit. 73 (translation by the authors).
[3] Ibid. 77 (translation by the authors).
[4] Emphasizing the analytical differences between mass culture, popular culture, and "Popkultur" cf. Thomas Hecken, "Popular Culture?" in POP no. 6 (Spring 2015), 97–101. With regard to the conceptual incomparability of popular culture and "Populärkultur" cf. Schaffrick, "Einführungen", 110.
[5] Cf., e.g. Carsten Kretschmann (ed.), Wissenspopularisierung. Konzepte der Wissensverbreitung im Wandel (Berlin: Akademie Verlag, 2003), Stefanie Samida (ed.), Inszenierte Wissenschaft: Zur Popularisierung von Wissen im 19. Jahrhundert (Bielefeld: transcript, 2011) and Cord Arendes, "Wissenstransfer als 'Third Mission'. Herausforderungen und Chancen für die Geschichtswissenschaft," in Geschichtswissenschaft im 21. Jahrhundert. Interventionen zu aktuellen Debatten, eds. Cord Arendes [et. al.] (Berlin/Boston: de Gruyter, 2020), 47–56.
[6] Central contributions to this field have certainly been made by the research group "Historische Lebenswelten in populären Wissenskulturen der Gegenwart," Freiburg University, 2007–2015. For some of the publications see: https://www.transcript-verlag.de/reihen/geschichtswissenschaft/historische-lebenswelten-in-populaeren-wissenskulturenhistory-in-popular-cultures/?p=1 (last accessed July 10, 2023).
[7] Cf. Christine Gundermann [et al.], Schlüsselbegriffe der Public History (Göttingen: Vandenhoeck & Ruprecht, 2021).
[8] For an attempt to bring these fields together see, e.g., Stefanie Samida, "Leute machen Kleider oder Über das Selbermachen in der Populärkultur," in Kieler Blätter zur Volkskunde 52 (2020), 35–53 and several articles in Christoph Bareither and Ingrid Tomkowiak (eds.), Mediated Pasts – Popular Pleasures. Medien und Praktiken populärkulturellen Erinnerns (Würzburg: Königshausen & Neumann, 2020).
[9] Cf. Kaspar Maase, "Populärkultur – Unterhaltung – Vergnügung. Überlegungen zur Systematik eines Forschungsfeldes," in Unterhaltung und Vergnügung: Beiträge der Europäischen Ethnologie zur Populärkulturforschung, eds. Christoph Bareither, Kaspar Maase, and Mirjam Nast (Würzburg: Königshausen & Neumann, 2013), 24–36, cit. 35.
[10] Cf. Kaspar Maase, Populärkulturforschung. Eine Einführung (Bielefeld: transcript, 2019), Kaspar Maase, "Populärkultur und alltägliches ästhetisches Erleben," in POP no. 20 (Spring 2022), 130–145 and Kaspar Maase, Schönes alltäglich erleben. Über die Ästhetisierung der Kultur (Bielefeld: transcript, 2022).

_____________________
Image Credits
"Exterior wall, Memorial and Educational Centre 'Andreasstraße,' Erfurt." © Photograph by Cord Arendes, September 22, 2022 (personal property).
Recommended Citation
Arendes, Cord, Stefanie Samida: Historical Culture and Popular Culture. In: Public History Weekly 11 (2023) 6, DOI: dx.doi.org/10.1515/phw-2023-22004.
Editorial Responsibility
Copyright © 2023 by De Gruyter Oldenbourg and the author, all rights reserved. This work may be copied and redistributed for non-commercial, educational purposes, if permission is granted by the author and usage right holders. For permission please contact the editor-in-chief (see here). All articles are reliably referenced via a DOI, which includes all comments that are considered an integral part of the publication.
The assessments in this article reflect only the perspective of the author. PHW considers itself as a pluralistic debate journal, contributions to discussions are very welcome. Please note our commentary guidelines (https://public-history-weekly.degruyter.com/contribute/).
---
Categories: 11 (2023) 6
DOI: dx.doi.org/10.1515/phw-2023-22004
Tags: Experience, Historical Culture (Geschichtskultur), Mass Media (Massenmedien), Popular Culture, Reenactment