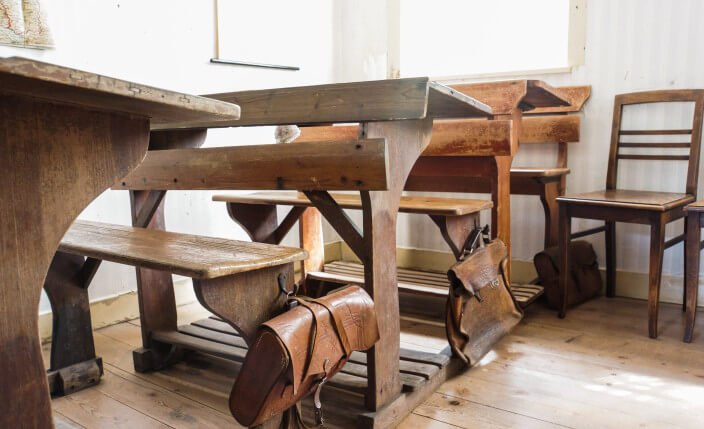 Over the last few years, different competency models have prevailed and are now competing against each other. However, competency orientation is not fundamentally questioned, even though it tends – provocatively worded – to dogmatics. Indeed, there is a lot to discuss and to criticise, for example, the artificial separation of knowledge and competencies, or the danger of arbitrariness arising from the central importance of multi-perspectivity.
Constructivism – a nasty word?
I claim that competency models are based on constructivist approaches. So-called truths are questioned, and it is assumed that the view of the world is determined by a subjective process. Therefore, competency models are often accused of postmodern arbitrariness – in particular in the didactics of history and civic education because of the current preference to deconstruct historical and political narratives. The role that these narratives play for identity building is often neglected. The criticism leveled at the constructivism experience has now reached a new climax: under the heading of "new realism," several philosophers – among others Markus Gabriel und Maurizio Ferraris – are heralding the end of postmodernism. This seems to me to be a good reason to reflect on the hegemony of constructivism in the didactics of history and civic education … and perhaps to challenge it.
New realism and the truth
In Markus Gabriel's popular-psychological book "Why the world does not exist," three figures consider Mount Vesuv from different vantage points: "Astrid," the author, and the reader. Therefore, not only one single Vesuv exists, as is commonly assumed, but actually three others. This sounds like – a moderate version of – constructivism. But could one Vesuv be "truer" than the others? Transferred to civic education, for example, we could safely say, and conclusively argue, that all cultures are dynamic and not static. This means that in democratic societies, which are increasingly characterized by migration, intercultural processes and cultural changes need to be accepted in order to resolve social and political problems. Any policy aimed at perpetuating a cultural status quo will not only fail but also lead to marginalisation, xenophobia, and possibly to violence. Admittedly, this is only one possible perspective, one which does not allow any other alternative. This perspective could thus be called "realistic."
True, but not objectively
Both constructivism and "new realism" have one thing in common: they refuse the claim to objectivity. Although the new realism neither relativises nor can be accused of arbitrariness, it defines itself as a countermovement against hegemonic discourses, including populism and easy solutions for complex and multicausal problems. Ideologies, also called "isms," cannot be ruled out. However, under certain conditions, such as democracy, some "isms" are "truer" than others. This is already evident in Maurizio Ferraris's plea for new realism entitled "Manifesto of New Realism," inspired by Karl Marx and Friedrich Engels's "The Communist Manifesto," which created a political counterforce, or by André Breton's "Manifesto of Surrealism," which initiated a new art movement.
I doubt, and ask questions …
New realism raises various key questions: are there any historical and political narratives which – within a set of democratic values – do not allow alternatives? Are teachers in fact only moderators or will they continue to be instructors? Has only the learner the right to design historical and political narratives? Is therefore the teacher condemned to silence? Is it possible that master narratives still continue to exist? Are there any limits for multi-perspectivity? Must we vehemently oppose certain political positions, for example, populist and xenophobic notions, even if these ideas are supported by political parties which are democratically elected? Is it not true that educational materials and teaching methods often point in a single direction, in spite of the fact that they should enable learners to take different perspectives? All these questions make me feel insecure, nor do have any readymade answers. It is still unthinkable for me to concede some of my previous didactical principles. Nevertheless, we should promotea dispassionate discussion of these issues.
Literature
Maurizio Ferraris, Manifest des Neuen Realismus, (Recht als Kultur, vol. 6) (Frankfurt a. M., 2014
Markus Gabriel, Warum es die Welt nicht gibt, 7th ed. (Berlin: Ullstein, 2013).
Markus Gabriel, Der Neue Realismus (Berlin: Suhrkamp, 2014).
External Links
Image credits
© Rainer Sturm  / pixelio.de.
Recommended citation
Hellmuth, Thomas: Thinking about Competency-oriented Learning. New Realism or 'Old' Pragmatics? In: Public History Weekly 2 (2014) 30, DOI:  dx.doi.org/10.1515/phw-2014-2477.
Copyright (c) 2014 by De Gruyter Oldenbourg and the author, all rights reserved. This work may be copied and redistributed for non-commercial, educational purposes, if permission is granted by the author and usage right holders. For permission please contact: julia.schreiner (at) degruyter.com.
In den letzten Jahren haben sich in der Didaktik der Geschichte und politischen Bildung verschiedene Kompetenzmodelle durchgesetzt und sich gegenseitig mehr oder weniger Konkurrenz gemacht. Unbestritten ist aber die Kompetenzorientierung, die als solche – provokant formuliert – gar ein wenig dogmatisch geworden ist. Tatsächlich gibt es viel daran zu diskutieren und zu kritisieren, etwa die künstliche Trennung von "Wissen" und "Kompetenzen" oder die Gefahr der Beliebigkeit infolge der zentralen Bedeutung der Multiperspektivität.
"Konstruktivismus" – ein garstig' Wort?
Hinter den Kompetenzmodellen stecken – das behaupte ich hier zumindest – konstruktivistische Überlegungen. "Wahrheiten", also die Dinge, wie sie angeblich sind, werden infrage gestellt und die Betrachtung der Welt als subjektiv definiert. Damit einher geht freilich auch der Vorwurf der Beliebigkeit, zum Beispiel in der Didaktik der Geschichte und politischen Bildung nicht zuletzt auch durch einen zunehmenden Hang, historische und politische Erzählungen vor allem zu dekonstruieren und deren Konstruktion, obwohl für die Identitätsbildung von zentraler Bedeutung, zu vernachlässigen. Nun wird daher wieder zum "Halali" gegen den Konstruktivismus geblasen. Unter dem Schlagwort des "Neuen Realismus" erfolgt – angeführt von Markus Gabriel und Maurizio Ferraris – der Abgesang auf die Postmoderne und damit auch auf den Konstruktivismus. Damit scheint mir auch für die Didaktik der Geschichte und politischen Bildung ein Grund gegeben, über die hegemoniale Position des Konstruktivismus nachzudenken … und diese vielleicht auch infrage zu stellen.
Der "Neue Realismus" und die "Wahrheit"
In Markus Gabriels populär-philosophischen Buch "Warum es die Welt nicht gibt" betrachten "Astrid", der Autor und der Leser bzw. die Leserin von verschiedenen Orten aus den Vesuv. Es existieren daher nicht nur ein Vesuv, sozusagen "der" Vesuv, sondern noch drei andere – je nach Blickwinkel. Das klingt nach – zumindest gemäßigtem – Konstruktivismus. Aber: Kann ein Vesuv "wahrer" sein? Umgelegt etwa auf die politische Bildung lässt sich zum Beispiel sehr wohl behaupten und wohl auch schlüssig argumentieren, dass etwa Kultur dynamisch und nicht statisch ist, d.h. dass in demokratischen Gesellschaften, die zunehmend von Migration geprägt sind, interkulturelle Prozesse und kultureller Wandel als notwendig akzeptiert und auch gestaltet werden müssen, um damit verbundene soziale und politische Probleme zu lösen. Jede Politik, die auf kulturellen Status quo ausgerichtet ist, wird scheitern und führt letztlich zu Ausgrenzung, die sich in Ausländerfeindlichkeit und möglicherweise auch in Gewalt niederschlägt. Damit ist freilich nur eine Perspektive auf Migrationsgesellschaften beschrieben, die aber unter demokratischen Voraussetzungen kaum eine bessere Alternative zulässt – "realistisch" lässt sie sich durchaus nennen.
"Wahr" und doch nicht "objektiv"
Beide, Konstruktivismus und Neuer Realismus, haben eines gemeinsam: Sie wenden sich gegen jedweden Objektivitätsanspruch. Der Neue Realismus relativiert zwar letztlich nicht und setzt sich damit nicht dem Vorwurf der Beliebigkeit aus, er begreift sich aber als eine Gegenbewegung gegen hegemoniale Diskurse, unter anderem gegen Populismus und einfache Lösungen in einer komplexen Welt. "Ismen" sind also nicht ausgeschlossen, manche "Ismen" aber – unter bestimmten Voraussetzungen wie einer demokratischen Gesellschaft – "wahrer". Allein an Maurizio Ferraris' Plädoyer für den Neuen Realismus, das den Titel "Manifest des  Neuen Realismus" trägt, lässt sich dies unschwer erkennen. Haben doch schon Karl Marx und Friedrich Engels mit ihrem "Manifest der kommunistischen Partei" eine politische Gegenmacht aufgebaut oder André Breton mit seinem "Manifest des Surrealismus" einer neuen, durchaus politisch orientierten Kunstbewegung den Weg gewiesen.
Ich zweifle und frage …
Für die Didaktik der Geschichte und politischen Bildung stellen sich im Zusammenhang mit dem Neuen Realismus mehrere Fragen: Gibt es nicht historische und politische Erzählungen, die unter der Voraussetzung eines demokratischen Werterahmens kaum Alternativen besitzen? Ist die Lehrperson tatsächlich nur ModeratorIn, wie zunehmend behauptet wird, oder ist sie trotz alledem auch LehrmeisterIn? Besitzt nur der/die Lernende das Recht, seine Erzählungen zu konstruieren? Ist der/die Lehrende daher letztlich zum Schweigen verurteilt? Oder gibt es doch noch "Meistererzählungen", die erzählt werden müssen? Hat die Multiperspektivität ihre Grenzen? Ist bestimmten politischen, etwa populistischen Positionen, auch wenn diese von Parteien vertreten werden, die als demokratisch gelten, nicht eindeutig entgegenzutreten? Sind nicht oftmals die von den Lehrenden gewählten Materialien und Methoden, auch wenn sie Multiperspektivität beanspruchen und den Lernenden die Konstruktion eigener Erzählungen ermöglichen sollen, doch in eine bestimmte Richtung weisend? Alles Fragen, die zumindest mich zunehmend verunsichern. Antworten habe ich darauf (noch) keine, undenkbar ist es mir noch immer, vielleicht einen Teil davon aufzugeben, was meine fachdidaktischen Überzeugungen bisher ausgemacht hat. Dennoch sollten wir über diese Fragen sachlich diskutieren.
Literatur
Ferraris, Maurizio: Manifest des Neuen Realismus, Frankfurt a. M. 2014 (Recht als Kultur, Bd. 6).
Gabriel, Markus: Warum es die Welt nicht gibt, 7. Auflage, Berlin 2013.
Gabriel, Markus: Der Neue Realismus, Berlin 2014.
Externe Links
Abbildungsnachweis
© Rainer Sturm  / pixelio.de.
Empfohlene Zitierweise
Hellmuth, Thomas: Nachdenken über Kompetenzorientierung. Neuer Realismus statt 'alter' Pragmatik? In: Public History Weekly 2 (2014) 30, DOI:  dx.doi.org/10.1515/phw-2014-2477.
Copyright (c) 2014 by De Gruyter Oldenbourg and the author, all rights reserved. This work may be copied and redistributed for non-commercial, educational purposes, if permission is granted by the author and usage right holders. For permission please contact: julia.schreiner (at) degruyter.com.
---
Categories: 2 (2014) 30
DOI: dx.doi.org/10.1515/phw-2014-2477
Tags: Civics Education (Politische Bildung), Competencies (Kompetenzen), History Didactics (Geschichtsdidaktik)