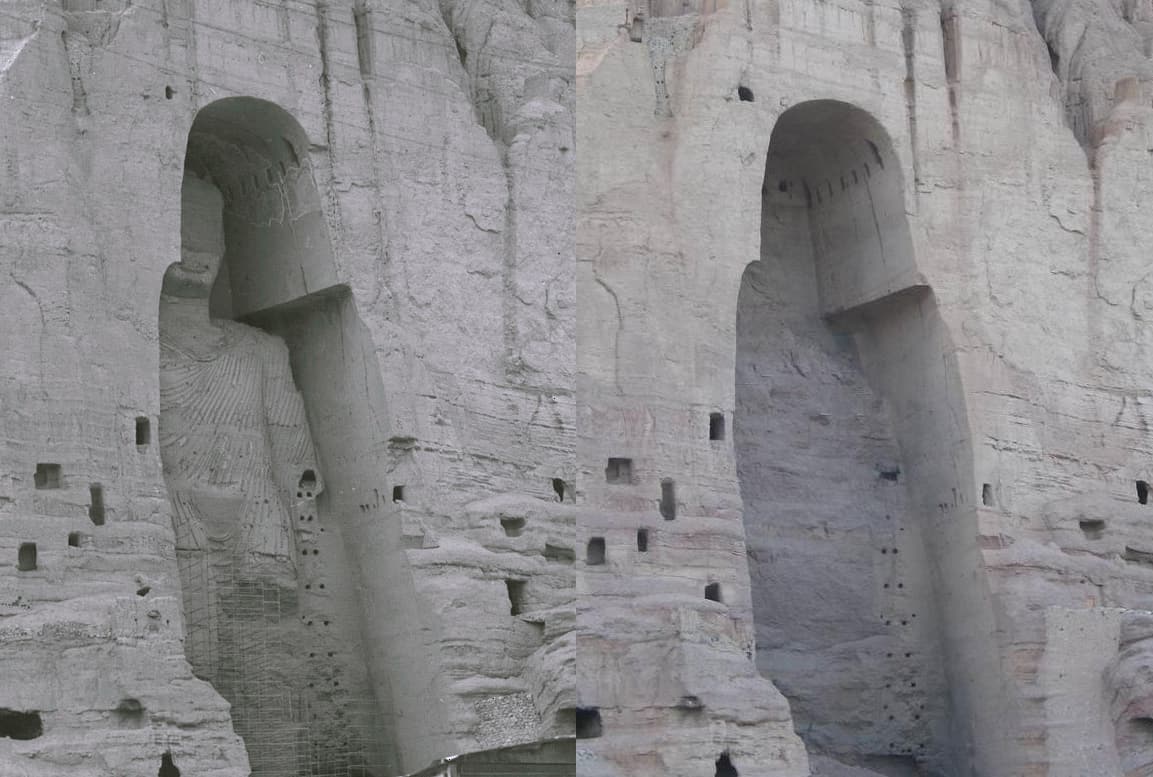 Abstract:
An interview with Hermann Parzinger, president of the Prussian Cultural Heritage Foundation, following the publication of his book "Verdammt und vernichtet. Kulturzerstörungen vom Alten Orient bis zur Gegenwart". The interview was conducted on 18 March 2021.
DOI: dx.doi.org/10.1515/phw-2022-19823
Languages: English, German
Hermann Parzinger is with us today. He is president of the Prussian Cultural Heritage Foundation and a prehistoric archaeologist who has also become known as a specialist in Scythian culture. He is well versed not only in this field but also in several others, as his book "Verdammt und vernichtet" ("Damned and Destroyed") proves yet again. We invited Hermann Parzinger to discuss his book, which illumines public history from a special perspective, one which is also the focus of this monthly issue of Public History Weekly.

Thomas Hellmuth: Your book discusses above all the destruction of cultural assets, i.e. cultural destruction is emphasised. What it barely mentions is the question of whether art is not also transformed in terms of content, that is, not only destroyed but also functionalised. Are works of art not also meant to strengthen a new society, new power relations and new power structures through their reinterpretation? Thus, I am wondering whether your book concerns not only condemnation and destruction, but also reinterpretation?

Hermann Parzinger: Indeed, this aspect is not particularly prominent in the book, because at various stages of my career and research, spanning ancient to modern times, I have repeatedly encountered this destruction of culture, which may have been motivated in very different ways. Of course, there are also examples of certain cultural assets or works of art not being destroyed but being ideologised and reinterpreted instead. That is a different kind of appropriation. We are currently experiencing this in the Ukraine war, where history is being reinterpreted in absurd and spurious ways, for example, by the Russian president.
Or worst of all, of course, during National Socialism. On the one hand, the Nazis wanted to destroy Jewish culture, so-called "degenerate art" or the art and culture of the conquered Slavic peoples, and did so, at least in part. On the other hand, they bestowed positive connotations on certain cultural assets, for example, Germanic ones. The SS-Ahnenerbe organisation carried out excavations in occupied Greece, where cord-decorated ceramics were discovered, similar to those found in Nordic regions. Although unrelated to the Germanic North, suddenly a connection was found, in turn serving to historically legitimise an imperialist and racist war of aggression. Such examples occur time after time.

Marko Demantowsky: Mr Parzinger, I really enjoyed reading your book. It strongly appealed to me on a level that is perhaps less immediately apparent, its melancholic mood. This surprised me because your profession involves rescuing culture from oblivion. Actually, you could also write a book about rescue or salvaging operations. Never has so much been saved as today. So why such a thoroughly melancholic book in 2021?

Parzinger: Well, because I believe that these destructions of culture are a common, pervasive theme in human history. My first examples come from pre-Christian times, since when matters have not become much better. On the contrary, destruction has even become more systematic, if we look at what has happened and how. We need only think of National Socialism, which is surely the lowest point in our history of cultural destruction, in particular the systematic way in which culture was obliterated at the time! But destruction continued after the Second World War, in many parts of the world. If we examine events a little more closely, such acts seem to be experiencing an unexpected "renaissance" in the late 20th and early 21st centuries.
Consider the conflict in Yugoslavia, the so-called ethnic cleansing, which was linked to the destruction of cultural assets and materialised history, when especially architectural monuments, churches, mosques and so on were targeted. This continued in the Kosovo conflict, and later in the terrorist acts of the so-called "Islamic State". This was really inconceivable. I worked in the Near and Middle East for a long time but could not have imagined that such early periods of history would be destroyed so systematically and also so radically. These events were preceded by the Taliban blowing up the Buddha statues of Bamiyan. In both cases, the destruction was captured on video, almost like ritualised acts, and brought home to a worldwide audience. Not clandestinely, but ostentatiously. These images were simply shocking, especially for me as an archaeologist. No such barbaric destruction of ancient sites had occurred in this form in the Near and Middle East in all those years before. Destruction has assumed a new quality. This is certainly also related to the fact that these were not conflicts between states, but rather acts perpertrated by ideologically, religiously or ethnically motivated terrorist groups. These acts were also closely entwined with fighting other ethnic groups. Not only were the statues of Bamiyan blown up but the Hazara, the Shiite population living in the Bamiyan valley, were systematically persecuted. Similar to the massacres in the Yugoslav war of the 1990s or those committed by the "Islamic State" against the Yazidis. Much came together that had a new quality for me.

Hellmuth: In the conclusion of your book, you present three forms of cultural destruction: ideological, religious and economic iconoclasm. You suggest that these forms are too undifferentiated and do not do justice to the complexity of the subject. You therefore expand these three motifs. Could you elaborate on this differentiated view?

Parzinger: I have indeed differentiated even further and coined my own terms for each of the examples. These come from different eras because the respective historical contexts were always different. In antiquity, the destruction of culture was very strongly politically motivated, so I talk about political iconoclasm. When the Romans destroyed the Temple in Jerusalem, they did so above all to destroy the centre of Jewish resistance, of Jewish culture, and at the same time to steal the Temple treasures. In late antiquity, I call this anti-pagan iconoclasm: the fight against paganism, which coexisted for several centuries with early Christianity and became the state religion after Constantine the Great. For a long time, one could even speak of a certain religious tolerance, yet suddenly events turned. Here, too, the background is quite interesting: it was less a question of eliminating paganism and the pagan cults than focusing on the temple treasures. Vast quantities of precious metal were hoarded and thus withdrawn from the economic cycle. My example, which I discuss in a little more detail, also because it is well documented, is the destruction of the Serapis Temple of Alexandria in 392. The protagonist here was Bishop Theophilus, who resorted to destruction to use the obtained riches to influence the policy of the imperial court in Constantinople.
Or later, with reference to the French Revolution, I speak of revolutionary iconoclasm. This involved overcoming a detested regime, by destroying any trace of it in indescribable orgies of destruction. Even the tombs of French kings in St Denis were destroyed and ransacked! In the wake of this destruction, Bishop Henri Grégoire coined the term vandalism to describe the scale of destruction. What ensued, however, was a decisive change in thinking, which has shaped our attitude towards cultural assets to this day: That which is expropriated in castles and princely houses should no longer be destroyed but should belong to the general public and be preserved for it! That ultimately is the core idea of cultural heritage, of patrimoine.
Thus, very different forms of cultural destruction exist. In the colonial era, cultural iconoclasm sometimes reached genocidal proportions. Just think of the Spanish conquests in South and Central America; entire population groups were largely wiped out, and huge megacities were destroyed, whose remains now lie beneath the modern city of Mexico City, for example. Cult objects and the unique codices with their pictorial writing were destroyed on a particularly massive scale! This explains why very few writings have been passed down from the Mayas and Aztecs. We do know, however, that extensive codices were systematically destroyed by the Spanish. In some cases, depictions of Spanish missionaries celebrating the burning of piles of such codices have survived. The knowledge lost to us is inconceivable. Many indigenous peoples have been wiped out, not only through massacres but also through the introduction of diseases. Interestingly, in many cases all that remained was language. For example, Quechua in modern-day Peru, which goes back to the language of the Incas.
Cultural destruction, then, assumes highly diverse forms. But there are also parallels. A common thread running through all periods is the economy. Already late antiquity gravitated around the redistribution of wealth. As did the Reformation: besides iconoclasm, it was largely a matter of redistributing the wealth of the Catholic Church among the funders of the new Protestant state. Even the Nazis destroyed "degenerate art" for ideological reasons on a massive scale; in Berlin alone, over 400 works held in the National Gallery were burned. Moreover, Hildebrand Gurtlitt and other art dealers loyal to the regime sold such works to international buyers, mostly through Swiss galleries, to obtain urgently needed foreign currency to fund the war effort. This practice extends as far as the "Islamic State": not only does it blow up temples and buildings as part of its performative iconoclasm, as well as films and disseminates these acts; it also promotes illicit excavations and the ransacking of ancient sites on an industrial scale, in order to sell the precious finds. This classical shadow economy is also responsible for the inconceivable destruction and loss of cultural assets.

Demantowsky: Looking at public history (and less at archaeology), I am fascinated by how much the topic of cultural destruction and book destruction is booming. Before your book, I read Catherine Nixey's "The Darkening Age" (2017), which depicts late antique destructions. The subject has attracted enormous attention in recent years. In parallel, actually, to a historical culture that has never been as richly developed as today. So, this amounts to an interesting dialectical situation. Perhaps you share this view. Let me ask another question about your book. Its reception has varied completely among columnists, including the Frankfurter Allgemeine and the Süddeutsche. What do you make of these entirely different reviews of your book and how do you interpret this difference?

Parzinger: What matters to me is that all the other reviews, not only that in the FAZ, were very positive. They understood what the book is about. Of course, the subject can be approached from very different angles. Others can write more books about this topic but my goal was very clear.
Let me respond to your first question. You might have a point. We consider ourselves a very enlightened and tolerant society and assume other parts of the world are too. But that is not the case: a lot has changed in the last decades. People travel and look at the whole world; as recently as the 1970s, one could travel without hesitation to countries like Iran or Afghanistan, which are now hardly accessible. Then came this regression to the archaic times of the Taliban and the IS, evident most of all in cultural destruction, alongside all the human suffering. Perhaps it is also a kind of shock that these developments do not fit in at all with the image of the world that we, socialised and shaped by Western values, have formed. We are currently shocked by the war in Ukraine, because we are yet again experiencing what we considered unimaginable. I say this very consciously: I have worked for almost three decades as an archaeologist in and with Russia, as well as in and with Ukraine.

Hellmuth: Your book includes no separate chapter on the destruction of culture under German colonial rule. This is a little surprising, since the Humboldt Forum has repeatedly faced criticism related to this history. Are there any particular reasons why you do not discuss German colonial rule in more detail?


Parzinger: Well, on the one hand, no book can cover everything; on the other hand, this kind of book obviously needs to address colonial history and cultural destruction in the colonial context. I wanted to focus not only on Africa, but also on Latin America and Asia, which often go somewhat unnoticed in the current debate. Regarding Africa, the case of the Benin bronzes is so exemplary and so symbolic of colonial injustice, also in the public eye, that I have concentrated on this example, even though many others exist. As for German colonial history, I consider the Boxer Rebellion of 1900/01 in China, associated with massacres of civilians and excessive cultural destruction in which the Germans played a dubious leading role. Seeking to establish that, I looked for examples where cultural assets were deliberately destroyed or where massive looting served to humiliate and destroy a culture. A great many artefacts were later brought to museums; the Humboldt Forum also exhibits works of art from China, which are explained in the context of the Boxer Insurrection.

Demantowsky: Let me ask a completely different question, Mr Parzinger. You have one of the most important management positions in the German-speaking world as far as public history is concerned. You oversee public history at an incredible number of institutions and are responsible for many people, yet still manage to publish books at an amazing frequency. How do you do that? What does your daily routine actually look like? Excuse me for asking, but I am simply curious. How do you manage to do what you do?

Parzinger: I suppose there are several reasons. Of course, my post is chiefly managerial, and a very public and cultural-political one at that. Thus, our foundation, by far the largest cultural institution in Germany, an association of institutions active in different areas of cultural heritage with collections from all times and from all over the world, in some ways compares to the even larger Smithsonian Institution in Washington. The Prussian Cultural Heritage Foundation is funded not only by the Federal Government, but also by all 16 German states, which is unique to the Stiftung Preußischer Kulturbesitz (Prussian Cultural Heritage Foundation, short: SPK). In this respect, my role as president is to liaise with the Federal Government and the states on fundamental issues, and to report to our Foundation Board. My role, therefore, involves much steering, initiating new projects and representing cultural policy positions.
As president, I obviously work closely with the responsible senior colleagues from the many SPK institutions. However, a lot of work is concluded there rather than by the president. That takes getting used to. My background is in research, and early on at the German Archaeological Institute I enjoyed getting projects on track and carrying out large third-party funded projects; at the SPK, this involves large building projects. All of this requires teamwork, of course. The higher one climbs an organisation's hierarchy, the further away one moves from the details. That has advantages and disadvantages. I have always found it important to stay in touch with the details as much as possible. At the same time, writing books has always remained important to me, you do this all by yourself.
It makes no difference whether it takes one, three or five years to finish a book. It allows you to step back from daily business, to immerse yourself in something else. It gives me great satisfaction. I can spend all day doing all sorts of things but when I get home in the evening and open the computer, I thoroughly enjoy writing. Of course, there are many weeks when that is impossible. But I do not consider writing work but an elixir that fortifies me for other things. I am also convinced that it is essential, especially in a managerial position in the cultural sector, never to lose a certain grounding in science, research, art and culture. This also enables promoting one's ideas much more convincingly.
I also continue to write books because synthesis matters. Archaeologists often run the risk of losing sight of the whole. Excavations generate myriad details and data, which are processed with IT support in countless doctoral theses. Historians do things better: they have long been writing surveys. Archaeologists neglect this a little too much and to their own detriment: their research is not really that present in the public mind; we would have so much more to tell! That is why I found writing Die Kinder des Prometheus (The Children of Prometheus, C.H.Beck, 2014), a book on early human history, important. This subject has preoccupied me since my student days almost 40 years ago. To a certain extent, my current position has also driven me to do this, because museums are the classical transmission belts for conveying science to the public. I think that museum exhibitions can only be successful if they are really science-based. Vice versa, it is a very important task to make the content developed by science accessible to an audience of millions.

Hellmuth: Let me pose one last question, one that again builds a bridge to forgetting in history, the theme of this month's issue of Public History Weekly. Would you equate annihilation and forgetting, or are these two different categories? Or rather: How do you see the relationship between annihilation and forgetting?

Parzinger: To annihilate is to make people forget. In some cases, they were meant to forget certain figures. In others, they were not supposed to forget that something or someone was meant to be forgotten. Take Hatshepsut, for example, whose cartouches were completely obliterated everywhere. She was meant to disappear from Egyptian history, to be forgotten. We also have examples from Roman times. Caracalla, for example: while his portraits and inscriptions were also removed, people were still meant to realise who had been erased from history. That, of course, is a completely different message.
The key point is that the destruction of culture has always been about ensuring that what has been destroyed is forgotten forever and never returns. When cultural assets are destroyed, for example, in the Bosnian conflict mosques and Catholic churches in the Orthodox part of the country, and vice versa, the aim is to make it impossible for those who have been displaced to ever return. No trace of their existence should remain. This is often the case with cultural destruction when associated with atrocities, massacres and forced migration.

Hellmuth: Well, we would still have many, many questions to ask. All that remains for us is to say thank you very much for this interview.

Parzinger: Thank you for your exciting questions.
_____________________
Image Credits
Taller Buddha of Bamiyan before and after destruction side © CC BY-SA 3.0 PL, Institute of Ethnology and Cultural Anthropology, Adam Mickiewicz University partnership.
Recommended Citation
 "…that other cultures, other people also existed". An Interview with Hermann Parzinger by Thomas Hellmuth and Marko Demantowsky. In: Public History Weekly 10 (2022) 4, DOI: dx.doi.org/10.1515/phw-2022-19823.
Translated by Dr Mark Kyburz (http://www.englishprojects.ch/)
Editorial Responsibility
Hermann Parzinger ist heute bei uns. Er ist Präsident der Berliner Stiftung Preußischer Kulturbesitz, prähistorischer Archäologe, bekannt geworden auch als Spezialist für die Kultur der Skythen. Aber nicht nur in diesem Bereich ist er versiert, sondern er ist breit aufgestellt, wie auch sein Buch "Verdammt und vernichtet" wieder zeigt. Wir haben Hermann Parzinger eingeladen, um mit ihm über dieses Buch zu reden, das Public History aus einer speziellen Perspektive beleuchtet, die auch im Zentrum dieser Monatsausgabe von Public History Weekly steht.

Thomas Hellmuth: Es ist auffällig, dass in Ihrem Buch vor allen Dingen die Vernichtung von Kulturgütern besprochen wird, also Kulturzerstörung wird hervorgehoben. Was dabei kaum zur Sprache kommt, ist die Frage, ob denn Kunst nicht auch inhaltlich transformiert wird, also nicht nur zerstört, sondern auch funktionalisiert wird. Sollen Kunstwerke nicht auch durch ihre Umdeutung eine neue Gesellschaft, neue Machtverhältnisse, neue Machtstrukturen stärken? Geht es also nicht nur um Verdammung und Vernichtung, sondern auch um Umdeutung?

Hermann Parzinger: Ja, das ist ein Aspekt, der in dem Buch nicht im Vordergrund stand, weil ich auf verschiedenen Stationen meines Werdeganges und meiner Forschungen von der Antike bis in die Neuzeit immer wieder dieser Kulturvernichtung begegnet bin, die sehr unterschiedlich motiviert gewesen sein kann. Natürlich gibt es auch Beispiele, dass bestimmte Kulturgüter oder Kunstwerke nicht zerstört, sondern besonders ideologisiert und umgedeutet werden. Das ist eine andere Art der Aneignung. Das erleben wir ja gerade im Ukrainekrieg, dass Geschichte auf absurde und fadenscheinige Weise neu interpretiert wird, zum Beispiel vom russischen Präsidenten.
Oder am schlimmsten natürlich im Nationalsozialismus, der einerseits die jüdische Kultur, die sogenannte "entartete Kunst" oder die Kunst und Kultur der eroberten slawischen Völker vernichten wollte und auch teilweise vernichtet hat. Andererseits hat das NS-Regime bestimmte Kulturgüter positiv konnotiert, das Germanische zum Beispiel. Es gab Ausgrabungen der Organisation SS-Ahnenerbe im besetzten Griechenland, wo man schnurverzierte Keramik entdeckt hat, wie es sie ähnlich auch im nordischen Kreis gibt. Obwohl das nichts mit dem germanischen Norden zu tun hat, sah man plötzlich einen Zusammenhang und nahm das wiederum als Grundlage für eine historische Legitimation eines imperialistischen und rassistischen Angriffskrieges. Solche Beispiele gibt es immer wieder.

Marko Demantowsky: Herr Parzinger, ich habe Ihr Buch wirklich gerne gelesen, und es hat mich auch sehr angesprochen, und zwar auf einer Ebene, die einem vielleicht nicht sofort vor Augen steht, nämlich mit diesem Grundton, mit diesem Basso continuo der Melancholie. Und es hat mich gewundert, weil doch Ihr Beruf einer der Rettung ist. Eigentlich könnten Sie doch auch ein Buch der Rettungen schreiben. Niemals wurde so viel gerettet wie heute. Warum 2021 dieses durch und durch melancholische Buch?

Parzinger: Ja, weil ich glaube, dass sich diese Kulturzerstörungen wie ein roter Faden durch die gesamte Menschheitsgeschichte ziehen, und davon kann man ja sprechen, meine ersten Beispiele stammen aus der vorchristlichen Zeit, seither ist es nicht viel besser geworden. Im Gegenteil, das Vernichten wurde sogar systematischer, wenn man sich anschaut, was da wie geschehen ist. Man denke nur an den Nationalsozialismus, sicher der Tiefpunkt in unserer Geschichte der Kulturvernichtung, betrachtet man die Systematik, mit der damals Kultur ausradiert worden ist! Doch nach dem Zweiten Weltkrieg ging es damit weiter, in vielen Teilen der Welt. Wenn man dann etwas genauer auf die Ereignisse schaut, hat man sogar das Gefühl, dass es eine ungeahnte "Renaissance" solcher Taten im späten 20. und 21. Jahrhundert gibt.
Denken wir an den Konflikt in Jugoslawien, die sogenannten ethnischen Säuberungen, die verbunden waren mit der Zerstörung von Kulturgütern und von materialisierter Geschichte, vor allem architektonische Denkmäler, Kirchen, Moscheen usw. wurden zu Zielscheiben. Im Kosovo-Konflikt hat sich das weitergezogen. Und dann die Terrortaten des sogenannten "Islamischen Staats". Das war wirklich unvorstellbar. Ich habe lange im Nahen und Mittleren Osten gearbeitet, hätte mir aber nicht vorstellen können, dass man so frühe Perioden der Geschichte so systematisch und mit solcher Radikalität vernichten würde. Die Sprengung der Buddha-Statuen von Bamiyan durch die Taliban ging dem schon voran. Und in beiden Fällen werden die Zerstörungen fast wie ritualisierte Akte im Video festgehalten und einem weltweiten Publikum vor Augen geführt, also gar nicht heimlich, sondern es wird wirklich richtig plakativ nach außen getragen. Diese Bilder waren einfach schockierend, gerade für mich als Archäologen, eine solche barbarische Vernichtung antiker Fundplätze gab es all die Jahre davor im Nahen und Mittleren Osten in dieser Form nicht. Es hat eine neue Qualität gewonnen. Das hängt gewiss auch damit zusammen, dass dies keine zwischenstaatlichen Konflikte waren, sondern ideologisch, religiös oder ethnisch definierte Terrorgruppen sind die zentralen Akteure gewesen. Dazu kommt die enge Verflechtung auch mit dem Kampf gegen andere ethnische Gruppen. Man hat die Statuen von Bamiyan gesprengt, aber gleichzeitig auch die Hazara, die schiitische Bevölkerungsgruppe, die im Bamiyan-Tal lebt, systematisch verfolgt. Ähnlich die Massaker im Jugoslawienkrieg der 1990er Jahre oder des "Islamischen Staats" an den Jesiden. Da kam vieles zusammen, was eine neue Qualität für mich hatte.

Hellmuth: Sie stellen in der Schlussbetrachtung Ihres Buches drei Formen der Kulturzerstörung vor: den ideologischen, den religiösen und den ökonomischen Ikonoklasmus. Sie meinen aber, dass diese drei Formen eigentlich zu undifferenziert seien. Sie würden der Komplexität des Themas eigentlich nicht gerecht werden. Daher erweitern Sie diese drei Motive. Könnten Sie uns in diese differenzierte Betrachtung ein wenig einführen?

Parzinger: Ich habe in der Tat noch stärker differenziert und eigentlich für jedes der Beispiele aus unterschiedlichen Epochen eigene Begriffe geprägt, weil die jeweiligen historischen Kontexte ja auch stets andere waren. Im Altertum ist Kulturzerstörung sehr stark politisch geprägt, da spreche ich von einem politischen Ikonoklasmus. Wenn die Römer den Tempel in Jerusalem zerstören, geht es vor allem darum, das Zentrum des jüdischen Widerstands, der jüdischen Kultur zu zerstören und gleichzeitig den Tempelschatz zu rauben. In der Spätantike habe ich das einen anti-paganen Ikonoklasmus genannt: Der Kampf gegen das Heidentum, das ja über einige Jahrhunderte mit dem frühen Christentum, das nach Konstantin dem Großen zur Staatsreligion wurde, eigentlich gut koexistierte, ja man konnte lange sogar von einer gewissen religiösen Toleranz sprechen, doch plötzlich schlägt es um. Da ist der Hintergrund wiederum ganz interessant, dass es nämlich gar nicht so sehr um die Ausschaltung des Heidnischen und der heidnischen Kulte ging, sondern die Tempelschätze standen im Fokus, Unmengen an Edelmetall wurden dort gehortet und waren dadurch dem Wirtschaftskreislauf entzogen. Das Beispiel dafür, das ich etwas ausführlicher dargestellt habe, auch weil es gut belegt ist, ist die Zerstörung des Serapis-Tempels von Alexandria 392, als der Bischof Theophilus der Hauptakteur war, der das betrieben hatte, um dann mit diesem Reichtum Einfluss zu nehmen auf die Politik des Kaiserhofs in Konstantinopel.
Oder später in Bezug auf die Französische Revolution spreche ich von einem revolutionären Ikonoklasmus. Es ging um die Überwindung eines verhassten Regimes, insofern wollte man zunächst alles, was daran erinnerte, vernichten. Es waren offenbar unbeschreibliche Orgien der Zerstörung. Sogar die Grabstätten französischer Könige in St. Denis wurden zerstört und zerwühlt! Der Bischof Henri Grégoire sprach damals zum ersten Mal von dem Begriff des Vandalismus. Doch dann kommt es zu einem entscheidenden Umdenken, das unsere Haltung gegenüber Kulturgütern bis heute prägt: Das, was in Schlössern und Fürstenhäusern enteignet wird, soll nicht mehr vernichtet werden, sondern der Allgemeinheit gehören und für diese erhalten werden! Das ist letztlich der Kerngedanke von Kulturerbe, von patrimoine.
So sind es eben immer wieder ganz unterschiedliche Formen von Kulturzerstörungen. In der Kolonialzeit kam es auch zu einem kulturellen Ikonoklasmus von teilweise genozidalem Ausmaß. Denkt man nur an die spanischen Eroberungen in Süd- und Mittelamerika, ganze Bevölkerungsgruppen wurden weitgehend auslöscht, riesige Megacity  zerstört, deren Reste heute zum Beispiel unter der modernen Stadt Mexico-City ruhen. Besonders massiv wurden Kultobjekte und die einzigartigen Codices mit ihrer Bilderschrift vernichtet! Wir verfügen deshalb heute nur mehr über ganz wenig schriftliche Überlieferung von Mayas und Azteken. Wir wissen aber, dass es umfangreiche Codices gab, die die Spanier systematisch zerstörten. Zum Teil gibt es sogar Darstellungen von spanischen Missionaren, auf denen zu sehen ist, wie die Verbrennung von Bergen solcher Codices zelebriert wird. Was uns da an Wissen verloren gegangen ist, ist unfassbar. Nicht nur durch Massaker, sondern auch durch das Einschleppen von Krankheiten sind letztlich viele indigene Völker weitgehend ausgelöscht worden. Interessanterweise blieb vielfach nur noch die Sprache erhalten. Etwa Quechua im heutigen Peru, das auf die Sprache der Inka zurückgeht.
Es gibt also sehr unterschiedliche Formen der Kulturvernichtung. Daneben lassen sich aber auch Parallelen aufzeigen. Einer dieser roten Fäden, der sich wirklich durch alle Perioden durchzieht, ist für mich die ökonomische Komponente. Schon in der Spätantike geht es ganz wesentlich um Vermögensumverteilung. Das ist auch in der Reformation ähnlich: Neben dem Bildersturm geht es vor allem auch um eine Umverteilung der Reichtümer der katholischen Kirche in Richtung der Träger des neuen protestantischen Staats. Und selbst die Nazis haben die "Entartete Kunst" aus ideologischen Gründen zwar massiv vernichtet, allein hier in Berlin  wurden über 400 Werke der Nationalgalerie verbrannt. Aber daneben gab es auch den Verkauf dieser verfemten Werke durch Hildebrand Gurtlitt und andere Kunsthändler des Regimes über meist Schweizer Galerien ins Ausland, um an dringend für die Kriegswirtschaft benötigte Devisen zu gelangen. Und das zieht sich hin bis zum IS, der nicht nur im Zuge eines performativen Ikonoklasmus Tempel und Gebäude sprengt und das auch noch filmt und verbreitet, sondern hinzu tritt eine regelrechte Industrie der Raubgräberei, des Durchwühlens von antiken Stätten, um kostbare Funde dann zu verkaufen, eine klassische Form der Schattenwirtschaft, die ebenfalls für unfassbare Zerstörungen und Kulturgutverluste verantwortlich ist.

Demantowsky: Ich finde es faszinierend, wenn man sich die Landschaft der Public History anschaut, also nicht die Landschaft der Archäologie, sondern der Public History, wie stark dieses Thema von Kulturvernichtung und Büchervernichtung boomt. Ich habe gerade vor Ihrem Buch, das Buch von Catherine Nixey "Heiliger Zorn" (2017) gelesen, das diese spätantiken Vernichtungen darstellt. Das Thema boomt enorm in den letzten Jahren. Parallel eigentlich zu einer Geschichtskultur, die nie so reich ausgebaut war wie heute. Also das ist schon eine interessante dialektische Situation. Vielleicht teilen Sie meine Beobachtung.
Aber ich möchte gerne noch eine Frage stellen zu Ihrem Buch. Es ist auch sehr auffällig gewesen, dass im überregionalen Feuilleton, also der Frankfurter Allgemeine und der Süddeutschen, Ihr Buch total unterschiedlich gelesen worden ist, so von Autor zu Autor. Wie gehen Sie damit um? Wie lesen Sie diese völlig unterschiedlichen Rezensionen Ihres Buches und wie interpretieren Sie diese Unterschiedlichkeit?

Parzinger: Entscheidend ist für mich, dass alle anderen Rezensionen, nicht nur die in der FAZ, durchgehend sehr positiv waren. Dort hat man verstanden, worum es mir in diesem Buch geht. Das Thema kann man natürlich von sehr verschiedenen Seiten aufziehen. Andere können doch noch weitere Bücher über dieses Thema schreiben, meine Zielrichtung war jedenfalls sehr klar.
Aber ich möchte zur ersten Frage noch etwas sagen. Ihre Beobachtung könnte richtig sein. Es hängt möglicherweise auch damit zusammen, dass wir uns für eine sehr aufgeklärte und tolerante Gesellschaft halten und dies auch anderswo in der Welt voraussetzen. Das ist aber nicht so, es hat sich viel verändert in den letzten Jahrzehnten. Man reist und schaut sich die ganze Welt an, noch in den 1970er Jahren konnte man bedenkenlos in Länder wie Iran oder Afghanistan reisen, die nun kaum mehr zugänglich sind. Und dann dieser Rückfall in wirklich archaische Zeiten der Taliban und des IS, besonders deutlich an den Kulturzerstörungen sichtbar, neben allem menschlichen Leid. Vielleicht ist es also auch eine Art von Schock, dass man diese Entwicklungen gar nicht zusammenbringt mit dem Bild, was man als westlich sozialisierter und geprägter Mensch sich von der Welt gemacht hat. Gerade erleben wir es doch wieder, dass der Ukrainekrieg uns in einen Schock versetzt, weil wir erneut Dinge erleben, die wir nicht für möglich gehalten hätten, und ich selbst sage das sehr bewusst, weil ich fast drei Jahrzehnte als Archäologie in und mit Russland und in und mit der Ukraine gearbeitet habe.

Hellmuth: Im Buch findet sich kein eigenes Kapitel zur Kulturvernichtung unter deutscher Kolonialherrschaft. Jetzt verwundert das ein wenig, da die Kritik, der sich nicht zuletzt auch das HumboldtForum immer wieder gegenübersieht, nicht zuletzt mit dieser Geschichte zusammenhängt. Gibt es dafür bestimmte Gründe, dass die koloniale deutsche Herrschaft nicht genauer behandelt wird?

Parzinger: Es ist natürlich klar, dass man einerseits nicht alles abdecken kann und andererseits, dass Kolonialgeschichte und Kulturzerstörungen im kolonialen Kontext in einem solchen Buch ebenfalls thematisiert werden müssen. Dabei wollte ich den Fokus nicht nur auf Afrika legen, sondern auch auf Lateinamerika und auf Asien, was in der jetzigen Debatte oft etwas unbeachtet bleibt. In Bezug auf Afrika steht der Fall der Benin-Bronzen so exemplarisch und so symbolhaft für koloniales Unrecht, auch in der Öffentlichkeit, dass ich mich für Afrika darauf konzentriert habe, auch wenn es natürlich viele andere Beispiele gäbe. Aus der deutschen Kolonialgeschichte greife ich den Boxerkrieg 1900/01 in China auf, der mit Massakern an der Bevölkerung und der massivsten Form der kulturellen Zerstörung verbunden war, und die Deutschen haben dabei eine zweifelhafte Führungsrolle gespielt. Das wollte ich deutlich machen. Ich habe also nach Beispielen gesucht, wo gezielt die Kulturgüter zerstört wurden oder wo massiv geplündert wurde, um eine Kultur zu demütigen und zu vernichten. Hinterher kam einiges in die Museen; auch wir besitzen Kunstwerke aus China, die im Humboldt Forum gezeigt und dort auch in den Kontext des Boxerkrieges gestellt und erklärt werden.

Demantowsky: Eine ganz andere Frage, Herr Parzinger. Sie haben eine der wichtigsten Managementpositionen im deutschsprachigen Bereich, was Public History angeht. Also, Sie sind der Manager von Public History an einer unglaublichen Anzahl von Institutionen und mit vielen Personen, für die Sie verantwortlich sind, und gleichzeitig schaffen Sie es, in einer erstaunlichen Taktfolge Bücher vorzulegen. Wie machen Sie das? Wie sieht eigentlich Ihr Alltag aus, entschuldigen Sie, dass ich das frage, aber es interessiert mich. Wie kriegen Sie das hin?

Parzinger: Das hat eine ganze Reihe von Gründen. Natürlich ist dieses Amt vor allem eine Managementaufgabe, und zwar eine sehr öffentliche und kulturpolitische. Unsere Stiftung, die mit Abstand größte Kultureinrichtung in Deutschland, ein Verbund von Einrichtungen unterschiedlicher Sparten der kulturellen Überlieferung mit Sammlungen aus allen Zeiten und aus der ganzen Welt, ist dadurch in gewisser Weise mit der noch einmal größeren Smithsonian Institution in Washington vergleichbar. Die Stiftung Preußischer Kulturbesitz wird nicht nur vom Bund, sondern auch von allen 16 deutschen Ländern getragen, das gibt es nur bei der Stiftung Preußischer Kulturbesitz (SPK). Insofern ist das Zusammenwirken mit dem Bund und den Ländern in Grundfragen Aufgabe des Präsidenten, der dem Stiftungsrat berichtpflichtig ist. Man steuert deshalb sehr vieles, bringt neue Projekte auf den Weg, vertritt kulturpolitische Positionen.
Das alles tut man als Präsident natürlich zusammen mit den verantwortlichen leitenden Kolleginnen und Kollegen aus den vielen Einrichtungen der SPK. Viele Dinge werden dann aber dort zu Ende geführt, nicht vom Präsidenten. Daran muss man sich auch erst gewöhnen. Ich komme ja aus der Wissenschaft, und mir hat es schon früh am Deutschen Archäologischen Institut Freude bereitet, Projekte aufs Gleis zu bekommen und große Drittmittelprojekte durchzuführen, hier bei der SPK sind es jetzt große Bauprojekte. Das alles geht nur im Team, klar. Je höher sie in der Hierarchie einer Organisation aufsteigen, desto weiter sind Sie von den Details weg. Das hat Vor- und Nachteile. Ich fand es immer wichtig, soweit möglich auch mit den Details in Verbindung zu bleiben. Dabei ist das Schreiben von Büchern für mich immer wichtig geblieben, es ist etwas, woran man ganz alleine arbeitet.
Es ist ja unwichtig, ob es eins, drei oder fünf Jahre dauert, bis ein Buch fertig ist. Eine Arbeit, mit der man sich immer wieder ein Stück weit aus dem Tagesgeschäft herausziehen kann, eintaucht in etwas anderes. Mir gibt das eine große Befriedigung, ich kann mich den ganzen Tag mit allen möglichen Dingen befassen, doch wenn ich abends nach Hause komme und den Computer aufklappe, ist es ein Vergnügen, weiterzuschreiben. Natürlich gibt es viele Wochen, in denen das gar nicht geht. Aber das ist einfach keine Arbeit für mich, sondern Lebenselexier, das wieder Kraft gibt für anderes. Ich bin auch überzeugt, dass es unerlässlich ist, gerade in einer Managerposition im Kulturbereich eine gewisse Verortung in Wissenschaft, Forschung, Kunst und Kultur nie zu verlieren. Man kann dann auch viel überzeugender für seine Inhalte werben.
Ein weiteres Argument, warum ich weiterhin Bücher schreibe, ist die Tatsache, dass es wichtig ist, Synthesen zu bilden. Als Archäologe läuft man oft Gefahr, dass der Blick aufs Ganze verloren geht. Bei Ausgrabungen gibt es ja Tausende von Details, von Daten, die mit IT-Unterstützung in unzähligen Doktorarbeiten verarbeitet werden. Die Historiker machen das besser, die schreiben schon lange immer wieder Überblickswerke, die Archäologen vernachlässigen das etwas zu sehr. Ihre Forschung ist dadurch nicht so wirklich so präsent in der Öffentlichkeit, wir können viel mehr erzählen! Deshalb war es mir wichtig, dieses Buch "Die Kinder des Prometheus" (C.H.Beck, 2014) zur frühen Menschheitsgeschichte zu schreiben, das Thema beschäftigt mich seit meiner Studienzeit vor fast 40 Jahren. Dazu hat mich ein stückweit auch die jetzige Tätigkeit getrieben, denn Museen sind ja klassische Transmissionsriemen von Wissenschaft in die Öffentlichkeit hinein. Ich denke, dass museale Ausstellungen nur dann erfolgreich sein können, wenn sie wirklich wissenschaftsbasiert sind. Es ist umgekehrt eine ganz wichtige Aufgabe, die Inhalte, die die Wissenschaft entwickelt, wirklich einem Millionenpublikum zugänglich zu machen.

Hellmuth: Hier eine letzte Frage. Eine Frage, die nochmals eine Brücke zum aktuellen Monatsthema von Public History Weekly schlägt, dem Vergessen in der Geschichte. Würden sie das Vernichten und Vergessen gleichsetzen oder sind dies zwei unterschiedliche Kategorien? Oder besser gesagt: Wie sehen Sie das Verhältnis zwischen Vernichten und Vergessen?

Parzinger: Vernichten ist ein stückweit vergessenmachen. Es gibt Beispiele, wo man wollte, dass Persönlichkeiten vergessen werden. Und zugleich kennen wir Fälle, in denen die Menschen es nicht vergessen sollten, dass etwas oder jemand vergessen gemacht wurde. Nehmen Sie Hatschepsut zum Beispiel, ihre Namenskartuschen wurden überall komplett getilgt, sie sollte aus der ägyptischen Geschichte verschwinden, vergessen werden. Dann gibt es aber auch andere Beispiele aus der Römerzeit, etwa Caracalla, dessen Porträts und Inschriften man ebenfalls beseitigte, zugleich sollte aber noch erkennbar sein, wer hier aus der Geschichte ausradiert wurde, das ist dann natürlich eine ganz andere Botschaft.
Der zentrale Punkt besteht darin, dass es bei Kulturzerstörungen letztlich immer darum ging, dass das Zerstörte dann irgendwann tatsächlich für immer vergessen ist und nicht wiederkehrt. Wenn kulturelle Güter zerstört sind, zum Beispiel im Bosnienkonflikt Moscheen und katholische Kirchen im orthodoxen Teil des Landes und umgekehrt, dann soll dabei die Rückkehr von Menschen, die man vertrieben hatte, für immer unmöglich gemacht werden, nichts mehr sollte an sie erinnern. So ist es oft bei Kulturzerstörungen, wenn sie mit Gräueltaten, Massakern und Vertreibungen verbunden sind.

Hellmuth: Ja, wir hätten noch viele, viele Fragen. Es bleibt uns nur, Dank zu sagen für das Interview.

Parzinger: Ich habe zu danken für Ihre spannenden Fragen.
_____________________
Abbildungsnachweis
Taller Buddha of Bamiyan before and after destruction side © CC BY-SA 3.0 PL, Institute of Ethnology and Cultural Anthropology, Adam Mickiewicz University partnership.
Empfohlene Zitierweise
"…dass da auch mal andere Kulturen, andere Menschen waren". Ein Interview mit Hermann Parzinger von Thomas Hellmuth und Marko Demantowsky. In: Public History Weekly 10 (2022) 4, DOI: dx.doi.org/10.1515/phw-2022-19823.
Redaktionelle Verantwortung
Copyright © 2021 by De Gruyter Oldenbourg and the author, all rights reserved. This work may be copied and redistributed for non-commercial, educational purposes, if permission is granted by the author and usage right holders. For permission please contact the editor-in-chief (see here). All articles are reliably referenced via a DOI, which includes all comments that are considered an integral part of the publication.
The assessments in this article reflect only the perspective of the author. PHW considers itself as a pluralistic debate journal, contributions to discussions are very welcome. Please note our commentary guidelines (https://public-history-weekly.degruyter.com/contribute/).
---
Categories: 10 (2022) 4
DOI: dx.doi.org/10.1515/phw-2022-19823
Tags: Cultural Heritage (Kulturerbe), Interview, Oblivion (Vergessen), Speakerscorner