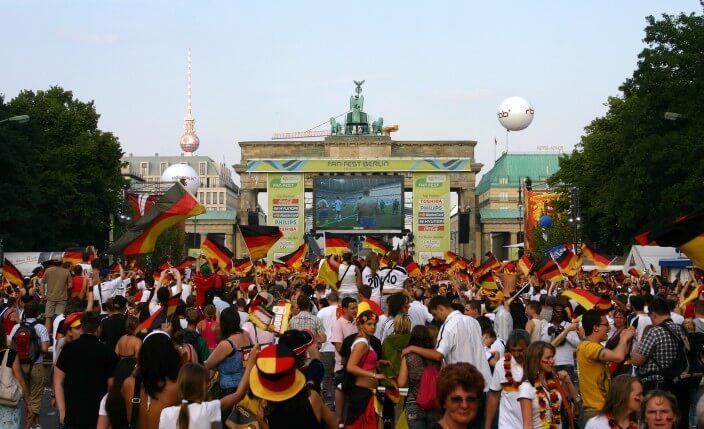 Abstract: In Berlin und Brandenburg sollen die Rahmenlehrpläne "modernisiert" und "entschlackt"[1] werden, das Resultat ist eine Abschaffung des Fachs Geschichte in den Klassen 5 und 6 und eine oktroyierte Methodenmonomanie im Unterricht der Klassen 5-8: Der Längsschnittzwang in den neuen Rahmenlehrplänen (RLP) Geschichte und Gesellschaftswissenschaften.
DOI: dx.doi.org/10.1515/phw-2015-3714.
Languages: Deutsch
In Berlin und Brandenburg sollen die Rahmenlehrpläne "modernisiert" und "entschlackt"[1] werden, das Resultat ist eine Abschaffung des Fachs Geschichte in den Klassen 5 und 6 und eine oktroyierte Methodenmonomanie im Unterricht der Klassen 5-8: Der Längsschnittzwang in den neuen Rahmenlehrplänen (RLP) Geschichte und Gesellschaftswissenschaften.
Der Längsschnitt als fachdidaktisches Verdikt
Neu ist, dass in den Klassenstufen 5-8 Geschichtsunterricht ausschließlich als Längsschnitt or­ga­nisiert ist und in den Klassen 9-10 als chronologisch-genetischer Gang durch die Geschich­te. Dieser Bruch in der thematischen Strukturierungskonzeption wird vom RLP nicht aufgelöst. Probleme entstehen durch die Nichtbeachtung des § 4 SchulG, "(4) Unterricht und Erziehung sind als langfristige, systematisch geplante und kumulativ angelegte Lernprozesse in der Vielfalt von Lernformen, Lernmethoden und Lernorten zu gestalten." Dies geschieht im Teil C des RLP Geschichte nicht, da in den Jahrgängen 5/6 und 7/8 nicht auf "kumulatives", sondern auf längsschnittartiges Wissen und nicht auf mehrere thematische Strukturierungskonzepte (chronologisch-genetisches Verfahren, Querschnittverfahren, Fallstudienverfahren, Längsschnittverfahren, um nur einige zu nennen) gesetzt wird, sondern der Längsschnitt als einziges Prinzip oktroyiert wird. Die Begründung, die der RLP für dieses Vorgehen liefert, ist nicht stichhaltig (Teil C, S. 17): Ein Längsschnitt ist als Strukturierungskonzept nicht historisch-genetisch, wie der RLP behauptet, er schließt die Chronologie gerade aus.[2] Er untersucht bspw. den 30-jährigen Krieg (1618-1648) und den Westfälischen Frieden 1648 im Vergleich zum Ersten Weltkrieg und dem Versailler Vertrag 1919 bzw. dem Zweiten Weltkrieg und dem Potsdamer Abkommen 1945.[3] Alles, was dazwischen liegt (bspw. das Zeitalter des Absolutismus oder der Aufklärung, die Französische Revolution, Napoleon etc.), wird nicht berücksichtigt und ist für den Längsschnitt auch nicht relevant.
Wo bleibt die Multiperspektivität?
Beim Längsschnitt (Klassen 5-8) sollen sich die SchülerInnen[4] mit Themen aus mindestens drei verschiedenen Epochen beschäftigen. Der Längsschnitt "Handel im Wandel: Wohlstand für alle?" bspw. bietet dazu folgende Auswahlmöglichkeiten: "Handel im Zeitalter der Globalisierung; Mittelalterliche Handelsplätze: Märkte und Messen; Handelsbündnisse (z. B. Hanse) und Handelsimperien (z. B. Fugger); Einfluss der Politik auf die Wirtschaft: Freihandel und Schutzzölle im 19. Jahrhundert; Einfluss der Politik auf die Wirtschaft: Markt- und Planwirtschaft (Teil C, S. 21)". Will die/der LehrerIn, vielleicht sogar unter Beteiligung ihrer SchülerInnen, wie es das Schulgesetz vorsieht, drei Themen aus drei verschiedenen Epochen auswählen, dann müssen sich die SchülerInnen erstmalig in den Klassen 7 und 8 mit drei "Schwergewichten" auseinandersetzen. Michele Barricelli attestiert 2007 dem Längsschnitt eine "eindimensionale Perspektive"; dies widerspricht dem Prinzip der Multiperspektivität, das allgemein anerkannt wird und auch als tragendes Prinzip in diesem RLP gefordert wird. Der historische Längsschnitt ist also ungeeignet, die zentrale Kompetenz des "historischen Erzählens" zu erreichen, ermöglicht den Schülerinnen kein kontextabhängiges und -konkretes Wissen, bietet kaum Hintergrundwissen, ist eindimensional und erlaubt keine Multiperspektivität.
Probleme Inklusion und Kompetenzorientierung
Inklusiver Geschichtsunterricht ist mit dem Längsschnitt als einziger Methode für SchülerInnen mit besonderem Förderschwerpunkt ungeeignet. Der Längsschnitt setzt "Expertentum" voraus, so Barricelli 2007, so dass gilt, wenn nicht alles in der Schule gelernt werden kann, sondern die Methode voraussetzt, dass Expertentum von zu Hause mitgebracht werden muss, ist sie gesellschaftspolitisch sowohl in einer Einwanderungsgesellschaft als auch in einer Gesellschaft, die Inklusion als Bildungs-Prinzip etablieren möchte, als einzige Methode ungeeignet. Durch den Längsschnitt als alleiniges Prinzip erschwert der RLP unnötigerweise inklusiven Geschichtsunterricht und wird damit aktuellen und zukünftigen Anforderungen nicht gerecht.
Der RLP fordert acht verschiedene Kompetenzstufen für den Geschichtsunterricht und definiert diese nicht durch differenzierte Kriterien zu ihrer Anwendung und Umsetzung. Wie sollen Kompetenzen differenziert und punktgenau, d.h. letztlich individuell für Luise und Jens, für Bilgin und Mohammed, für Sofia und Vladek erreicht werden? Im Teil A steht nur: "Die Leistungsfeststellung und -bewertung erfolgt mithilfe von transparenten und nachvollziehbaren Kriterien." Wer diese entwickeln soll, ist nicht angeführt, wahrscheinlich die jeweiligen Fachbereiche an den Schulen. Ein ambitionierter RLP wie dieser sollte dies nicht in die einzelnen Schulen abgeben, sondern "aus einem Guss" entwickeln und sowohl den LehrerInnen als auch den SchülerInnen und den Eltern anbieten. Hier muss mehr Transparenz und Kriterienorientierung angestrebt werden.[5]
Geschichte als eigenständiges Fach – ade!
Durch das Fach Gesellschaftswissenschaften in den Klassen 5 und 6 wird das eigenständige Fach Geschichte in allen Schulformen in Berlin und Brandenburg abgeschafft. In den Klassen 5 und 6 gibt es nur noch das Fach GeWi (Gesellschaftswissenschaften), in dem ausschließlich in Längsschnitten Themen behandelt werden, die geografische, politische und historische Aspekte besitzen. Das eigenständige Fach Geschichte ist abgeschafft. Historisches Lernen ist nun eigenständig nicht mehr möglich. Dadurch wird die historisch-politische Bildung empfindlich eingeschränkt, es entsteht kein historisches Kontextwissen und die Möglichkeiten, die das Fach Geschichte bietet, werden bewusst nicht genutzt. Chronologisches Lernen wird dadurch so stark erschwert, dass es kaum mehr möglich ist.
Fazit
1) Ein reflexives Geschichtsbewusstsein über die Veränderungen in der Zeit, über Struktur und Wandel innerhalb des historischen Zeitflusses – ein wesentliches Merkmal von Geschichtswissenschaft und Geschichtsunterricht – kann mit dem o.g. RLP nicht erlangt werden, d.h. Schülerinnen können Geschichte nicht mehr als Reflexions- und Denk-Fach erleben, da chronologisch-genetisches Kontextwissen nicht erreicht wird.
2) Diese Entwertung des Fachs Geschichte ist eine Preisgabe der Möglichkeiten, die dieses Fach für SchülerInnen bereithält. Sie können keine historische Verortung mehr erstellen, da ihnen chronologisch-kontextuelle Erkenntnisse und Fakten fehlen.
3) Der Geschichtslehrerverband Berlin fordert eine grundlegende Reform der Methoden- und Inhaltsfestlegung der Anhörungsfassung des RLP Geschichte und der des RLP Gesellschaftswissenschaften. Siehe dazu unsere Petition. [6]
_____________________
Literaturhinweise
Barricelli, Michele: Thematische Strukturierungskonzepte. In: Hilke Günther-Arndt (Hrsg.): Geschichts-Methodik. Handbuch für die Sekundarstufe I und II. Berlin 2007, S. 46-62.
Wenzel, Birgit: "Heterogenität und Inklusion – Herausforderungen für historisches Lernen. In: Lernen aus der Geschichte v. 30.1.2012, online: http://lernen-aus-der-geschichte.de/Lernen-und-Lehren/content/9991 (zuletzt am 10.3.15).
Webressourcen
_____________________
[1] Siehe: "Ziele der Neuentwicklung: Modernisierung und Entschlackung …" Vgl. online http://www.bildungsserver.berlin-brandenburg.de/10335.html (zuletzt am 9.3.2015).
[2] Michele Barricelli: Thematische Strukturierungskonzepte. In: Hilke Günther-Arndt (Hrsg.): Geschichtsmethodik. Handbuch für die Sekundarstufe I und II. Berlin, 2007, S. 46-62, weist auf diese Problematik des Längsschnitts hin: "… der Längsschnitt ist … noch nicht narrativ, eher aufzählend und chronikalisch, und stets bleibt die Frage berechtigt, was man eigentlich genau gelernt hat, wenn man unterschiedliche Varianten von bürgerlichen Revolutionen oder Arbeitskonflikten (…) nacheinander analysiert hat (S. 52)." Sollte der Längsschnitt multiperspektivisch angelegt werden, wandelt er sich durch die dadurch gewonnene Komplexität in ein genetisches Verfahren, so Barricelli, so dass er besser als methodisches Prinzip aufgegeben werden sollte. In diesem Sinne fasst dies auch Barricelli zusammen: "Historische Längsschnitte, so kann man resümieren, motivieren allzu schnell naive Narrative. Ihre Fruchtbarmachung für historisches Lernen verlangt spezifisches Expertentum bei Schülern, Lehrern und Autoren (S. 53)." In seinem Gutachten zum neuen RLP Geschichte vom 4.11.2014 behauptet Michele Barricelli das glatte Gegenteil zu 2007 (vgl.: http://www.bildungsserver.berlin-brandenburg.de/fileadmin/bbb/unterricht/rahmenlehrplaene_und_curriculare_materialien/Rahmenlehrplanprojekt/anhoerung/materialien/2014-11-04_Gutachten_RLP_Geschichte_Barricelli.pdf)
[3] Es werden Vergleichskriterien festgelegt, um die Kriege und die jeweiligen Friedensschlüsse zu untersuchen, um dann auf eine aktuelle Leitfrage hin die drei Momentaufnahmen miteinander zu vergleichen.
[4] Diese Schreibweise entspricht den Redaktionsrichtlinien dieser Zeitschrift. Der Autor hätte jeweils die Nennung beider Geschlechter bevorzugt.
[5] Als Beispiel dient an dieser Stelle die Urteilskompetenz, für SchülerInnen ein sehr schwieriger Bereich. Sie sollen bereits in der 7. Klasse folgendes können: "…zwischen einem Voraus- bzw. Spontanurteil und einem differenzierten Urteil unterscheiden, für sie leitende Wertmaßstäbe (z.B. Gerechtigkeit, Rechtmäßigkeit) nennen, unterschiedliche Urteile über Vergangenes benennen und vergleichen, ihre Urteile auf der Grundlage von Informationen und Erfahrungen bewerten und ggf. verändern (Teil C, S. 12)." Nimmt man dies ernst, müsste ein/e SchülerIn in der 7. Klasse bereits Urteils-Vergleiche vornehmen können, d.h., Kriterien für den Vergleich bilden können und verschiedene Urteile mittels Kriterien vergleichen; er /sie müssten bereits eine derart reflektierte Urteilsfähigkeit haben, dass sie Kriterien entwickelt hätten, um zwischen einem differenzierten Urteil und "Spontan"-Urteilen unterscheiden zu können. Dies alles sollen sie bereits in der 7. Klasse können, obwohl sie vorher gar kein Fach Geschichte hatten. Hier müssten die Standards deutlicher eine mögliche Progression von einem niedrigen Niveau zu möglichen höheren Niveaus ausweisen und die möglichen Probleme inklusiven Geschichtsunterrichts und einer Einwanderungsgesellschaft reflektieren.
[6] Vgl. dazu auch die Begründung der Online-Petition gegen die RLP Geschichte und GeWi von Robert Rauh und den beiden Landesverbänden des Geschichtslehrerverbandes in Berlin und Brandenburg: https://www.openpetition.de/petition/online/geschichte-darf-nicht-geschichte-werden-petition-gegen-den-neuen-lehrplan-geschichte-fuer-bln-bra (zuletzt am 9.3.2015).
____________________
Abbildungsnachweis
Nach dem Sieg. © Jörn Schulz / pixelio.de.
Empfohlene Zitierweise
Stolz, Peter: Alle Jahre wieder. Lehrplanrevision in Berlin und Brandenburg. In: Public History Weekly 3 (2015) 8, DOI: dx.doi.org/10.1515/phw-2015-3714.
Copyright (c) 2015 by De Gruyter Oldenbourg and the author, all rights reserved. This work may be copied and redistributed for non-commercial, educational purposes, if permission is granted by the author and usage right holders. For permission please contact the editor-in-chief (see here). All articles are reliably referenced via a DOI, which includes all comments that are considered an integral part of the publication.
The assessments in this article reflect only the perspective of the author. PHW considers itself as a pluralistic debate journal, contributions to discussions are very welcome. Please note our commentary guidelines (https://public-history-weekly.degruyter.com/contribute/).
---
Categories: 3 (2015) 8
DOI: dx.doi.org/10.1515/phw-2015-3714
Tags: Berlin, Curriculum (Lehrplan)