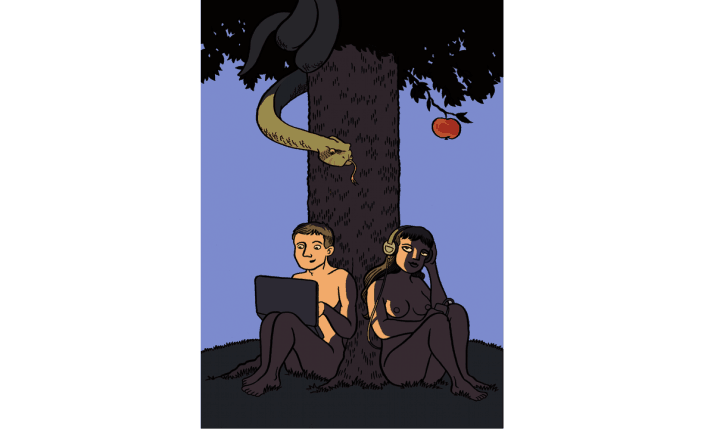 Are you still listening to the promises that interconnectedness would abolish all hierarchies, that that mythical entity, "The Web," would dissolve all boundaries, providing everything for everyone, a promised digital realm within immediate reach? All one had to do, so the claim went, was to be creative yet highly disciplined, and permanently online with everyone else, all of us using the new, smart programmes. 
"A single liquid fabric of interconnected words and ideas"
This is the sermon of the digital revolution that has been preached for almost thirty years—in manifold forms, persistently couched in the same phrases, no matter whether personal computers or the Web 2.0 are concerned, or indeed science communication. The old information elites were crumbling, a Californian counterculture manifesto proclaimed in 1988: "The kids are at the controls." 1 The farewell to the private documents of the Gutenberg Galaxy, as Norbert Bolz asserted in 1993, was also a "a farewell to hierarchy, category, and sequence"2; all that counted now were "authorless texts, written while being read." From the turn of the millenium, weblogs and discussion platforms were welcomed with the same fantasies of redemption. In an article about Google's new digitisation projects, published in The New York Times in 2006, writer and Internet activist Kevin Kelly was perfectly sure that all texts, past and present, and in all languages, would within a few years be transformed into "a single liquid fabric of interconnected words and ideas" available to everyone, at any time, everywhere.3
Prophecy and Speaking in Tongues
What makes prophecies so readily exchangeable is that they come from the past. They are heavily contaminated with history, above all with religious vocabulary. Cyberspace thereby becomes a self-administered paradise, in which we feel nestled, at long last, in the community of believers. Cyberspace, we know, includes a speaking in tongues. The same is equally true of its gloomy alternatives: a digitally-induced end of the world, caused by stultification and distraction, a sinful flood of images and information overload. It seems far from simple to discuss the possibilities, limits, and constraints of the new channels without resorting to esoteric kitsch and pessimistic penitential sermons. Yet even a cursory glance back reveals that previous technologies were embraced with similar hopes. In 1912, Thomas Alva Edison prophesied that books would become superfluous in the future because films would convey all human knowledge. Alvin Toffler popularised the notion of information overload in 1970, in the age of the golf ball typewriter; a few years earlier, writing about the photocopier, Marshall McLuhan had cheerfully trumpeted that authors were now their own publishers.4
Science Communication, Self-Managed
The photocopier, as a cheap reproduction technology, had brought forth new forms of communication in the sciences between the late 1960s and the early 1980s. Today, these forms are called "grey literature": informal micro-publications, self-typed and stapled brochures, documentation and manifestoes published in small print runs, from a few dozen to several hundred copies depending on the context and the occasion. Some of these publications became regularly appearing journals and periodicals whereas most, however, were very short-lived. Contemporary historians are familiar with these bodies of material: it is hardly possible to write the history of protest movements (and universities) in the second half of the twentieth century without recourse to these sources. And yet their sheer mention makes university archivists knit their brows: produced on cheap material, designed for ready use, these collections present documentalists with a highly practical problem: disintegration. "Grey literature," with its unruly diversity, its ultra-small print runs, and its relentless transformation, was not only a medium of communication but also one of disappearance. In the age of blogs, discussion platforms, and social media, this sounds familiar. Curiously, "grey literature" remains unmentioned in discussions on the future of scientific publishing, even though it was intimately related both to the communities of prosumers, who were authors and readers at one and the same time, and to serious scientific articles and books. The message for those seeking the immediate precursors of the digital channels in the sciences, with their topical, informal, and tentative references: here they are.
A Revolution Gone Grey
The lesson learned? Well, the new media provide no redemption, nor do they spell the end of the world. Fast digital transmission channels, and their constant refinement, do not abolish their slow, analog, paper-bound precursors. Never before have printed articles and books been as necessary as today, as filters for attaining stable outcomes: highly frequented "hot" media of digital communication—such as this one—support and promote "cooler" storage, which ensures longer storability and shelf life. Hence constant reference to print publications is made in digital formats. The same can be said of online scientific publications, as of every usable Wikipedia entry. And really good blogs become—books. Hello, digital revolution: is there anyone out there? Only collected volumes, as we all know, are read by no one. And yet they continue to multiply.
References
Groebner, Valentin. Wissenschaftssprache digital: Die Zukunft von gestern (Constance: Constance University Press, 2014) [forthcoming].
idem. "Nach der Megabit-Bombe," Mittelweg 36 22 (2013) 4, pp. 29-37.
idem. Wissenschaftssprache: Eine Gebrauchsanweisung (Constance: Constance University Press, 2012).
External Links
Image credits
© Andreas Kiener (http://andreaskiener.ch) 2013, with the kind support of Data Quest AG (http://www.dataquest.ch)
Translation (from German)
by Kyburz&Peck, English Language Projects (www.englishprojects.ch)
Recommended citation
Groebner, Valentin: Hot Property, Cool Storage, Grey Literature. In: Public History Weekly 2 (2014) 6, DOI: dx.doi.org/10.1515/phw-2014-1413.
Copyright (c) 2014 by Oldenbourg Verlag and the author, all rights reserved. This work may be copied and redistributed for non-commercial, educational purposes, if permission is granted by the author and usage right holders. For permission please contact: julia.schreiner (at) degruyter.com.
---
Categories: 2 (2014) 6
DOI: dx.doi.org/10.1515/phw-2014-1413
Tags: Digital Change (Digitaler Wandel), Science Communication (Wissenschaftskommunikation), Wilde13