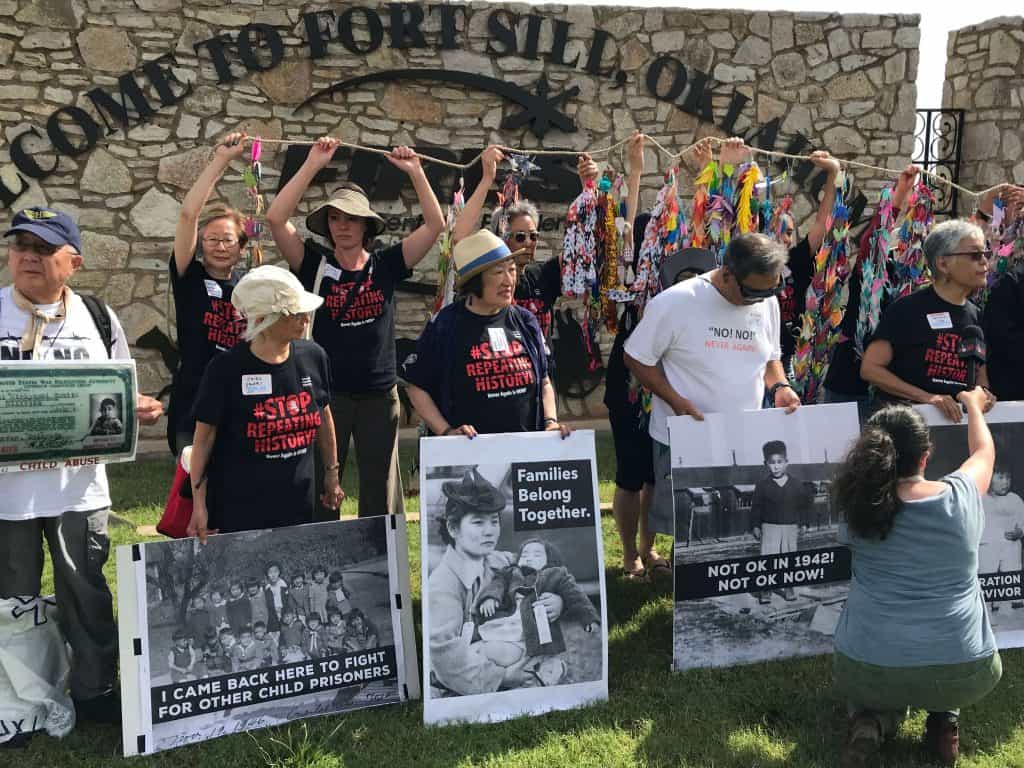 Abstract: Yang discusses the 2019 Fort Sill protests against the detainment of undocumented migrant children. During these protests, Japanese Americans invoked their own experiences of incarceration during World War II as children at Fort Sill to highlight the convergence of Fort Sill's history of racism, colonialism, and trauma. Yang explains that protestors highlighted this intersectional history, and also formed cross-community bonds between people of color from multiple communities.
DOI: dx.doi.org/10.1515/phw-2022-20579
Languages: English
Elderly Japanese Americans went to Fort Sill in 2019 to protest former President Trump's plans to detain 1400 undocumented migrant children. Reminding the public of the injustice of the World War II mass incarceration of Japanese Americans, they vowed to prevent history from being repeated and worked with indigenous and other activists of color to share intersecting histories of racism and colonialism at the site.
Standing Their Ground
"I said move. It's English, get out," the MP yelled at the five elderly Japanese Americans standing in front of the "Welcome to Fort Sill" sign at the US army base near Lawton, Oklahoma. The three women and two men, all between the ages of 75 and 89, stood their ground and continued to hold their press conference on June 22, 2019. They'd traveled from California, Washington, and New Mexico to denounce the Trump administration's plans to hold 1,400 undocumented migrant children at the base. All five held large poster boards showing photographs of some of the 40,000 children who were among the 120,000 Japanese Americans imprisoned during World War II.
"We were in American concentration camps, we were held under indefinite detention, we were without due process of law, (and) we were charged without any evidence of being a threat to national security," Satsuki Ina had declared. Holding a large photograph of herself as a toddler during the war, she described how Japanese Americans were portrayed as "an unassimilable race" and "a threat to the economy."
"We hear these exact words today regarding innocent people seeking asylum in this country and unlike 1942 when Americans turned their backs on us while we were disappearing from our homes, our farms, and our jobs," Ina proclaimed, "we're here today to speak out to protest the unjust incarceration of innocent people seeking refuge in this country."
"We stand with them," Ina vowed, "and we are saying stop repeating history."[1] Ina and the other Japanese Americans refused to move, continued holding signs such as "Not OK in 1942, Not OK now!" and "Never Again is Now," and finished their press conference before proceeding, as planned, to a rally with other activists of color at nearby Shepler Park.[2]
Locational Activism
This protest at Fort Sill provides an example of "locational activism" by Japanese Americans and other people of color, who meet at specific sites to expose and draw public attention to histories of racism and colonialism at these places. The racist rhetoric and policies of President Donald Trump inspired a groundswell of this kind of activism because of his attempts to deny the impact of slavery and other forms of historical discrimination on contemporary inequality in the U.S. After Trump and his far-right supporters uncritically celebrated America's past, locational activists held demonstrations at Confederate monuments and other sites, to denounce how such markers whitewashed U.S. history and to demand their removal.[3]
Other locational activists, such as the Japanese Americans at Fort Sill, have tried to influence public opinion and public policy through media coverage of the ways protesters drew parallels between intersecting histories of injustice at these sites and current discriminatory programs. Japanese Americans also symbolically reclaimed Fort Sill by transforming it from a site of oppression into a venue where different activists of color and the general public, who viewed the media coverage of the demonstration, could witness the nurturing of cross-community healing, solidarity, and the powerful potential of political coalitions between communities of color.
Japanese American Suffering
The Fort Sill locational activists exposed past Japanese American suffering at the site and connected it with the historical injustices experienced by indigenous people at Fort Sill in order to wage a contemporary crusade to defend the rights of undocumented migrant children. Satsuki Ina and Mike Ishii, co-organizers for Tsuru (cranes) for Solidarity, also showed the powerful impact of multigenerational and grassroots activism.[4]
Tsuru was founded in 2018 to oppose the proliferation of immigrant detention centers. Ina and her fellow former incarcerees brought the moral authority of their personal testimony about their wartime imprisonment, while Ishii and the younger activists used social media to mobilize and publicize a multiracial protest that included Latinx and African American activists committed to educating the public about the connections between the histories of discrimination experienced by multiple communities of color at the site and more recent examples of oppression.
Some of the Japanese Americans at Fort Sill had a long history of challenging policies targeting other communities of color. Chizu Omori, for example, was a veteran of civil rights activism in the 1960s and wanted to counter media portrayals of wartime Japanese Americans as patriots who volunteered for military service from behind barbed wire. She and her sister Emiko Omori co-produced the 1999 documentary Rabbit in the Moon to publicize the history of protest within the camps by people who refused to certify their loyalty, resisted the draft, and requested repatriation or expatriation to Japan. They hoped this revisionist history would counter the attempts to pit Japanese Americans against other people of color by portraying former incarcerees as "model minorities" who overcame racism and achieved economic success by pulling themselves up by their own bootstraps and rejecting the militant protest of  "radical" black and brown activists.[5]
Confronting Memories
The commemoration of the mass incarceration at Fort Sill emphasized the importance of confronting historical memories of discrimination at the actual site of injustice to empower activists to join together to denounce intersecting histories of racism and colonialism. Japanese American and indigenous speakers highlighted a history of shared trauma by multiple communities of color even before the activists arrived at Fort Sill.
They first stopped in south Texas at Dilley, the largest family detention facility in the country and one of 70 World War II sites that had imprisoned Japanese Americans. While meeting with Latinx organizers and families from Central America and Mexico, they recounted the history of Japanese Latin Americans who were rounded up, shipped to the US, and imprisoned nearby at the Crystal City Immigration and Naturalization Service (INS) camp. After the war, the fence at Crystal City was taken to the California-Mexico border to add to the wall there. "Even the props of oppression," Mike Ishii noted, "are used from one community to another" and then "recycled on another community."[6]
Speakers at Fort Sill shared histories of family separation and suffering at the site to explain why they couldn't allow children to be incarcerated again. During World War II, 700 Japanese immigrant men, including 90 Buddhist priests, were imprisoned there. Tom Ikeda, Executive Director of Densho: The Japanese American Legacy Project, spoke to honor the memory of Kanesaburo Oshima, a prisoner who had been shot in the back of the head. He recounted interviewing Oshima's son who said his father snapped after the trauma of being removed from his family and 11 children in Hawaii. He started climbing the fence in broad daylight saying, "I want to go home." The guards killed him even though the other incarcerees begged them not to shoot because Oshima was clearly distraught and suffering from a mental breakdown.[7]
Endpoints
Indigenous speakers noted that Fort Sill had been an endpoint for the notorious Trail of Tears and housed an Indian boarding school that removed children from their families to force assimilation and eliminate native culture. In 1894, it held 400 Chiricahua Apaches. Jeff Haozous of the Fort Sill Apache tribe recounted how his grandfather had been imprisoned for 20 years with Geronimo and how Geronimo's one condition for surrender "was to keep the families together."[8] American Indian Movement spiritual advisor Michael Topaum and Buddhist Reverend Duncan Ryuken Williams then held a joint healing ceremony to remember and honor all those who had suffered at Fort Sill before participants reaffirmed their determination to oppose immigrant detention centers.[9]
Providing historical memories of the impact of racism and state violence on families helped activists find common ground, connect with people from other communities and transform Fort Sill from a site of pain into a site of intergenerational healing and cross-communal empowerment. By "standing in solidarity with other communities," Mike Ishii explained, "we're healing our own trauma" because we can "reframe our historical narrative" in "service of justice and transformation for everyone."[10] Japanese Americans could be the allies they needed during World War II and show other communities they didn't have to fight alone.
Using social media, Japanese American activists from Tsuru, Densho, and the Japanese American National Museum worked with National Detention Watch and the American Civil Liberties Union (ACLU) to organize the demonstration at the base just 11 days after the first report it had been selected as a new detention center. They coordinated a program that included speakers from AIM Indian Territory, Dream Action Oklahoma, Black Lives Matter Oklahoma City, the Council on American Islamic Relations Oklahoma and other local organizations and worked with these groups to make sure speakers would be protected from counter-protesters.[11]
Informal Memorial
More than 200 people of different ages, ethnicities, and races attended the demonstration at Fort Sill in 2019 and media coverage by the New York Times, the LA Times, NBC news, and other prominent news media quoted Satsuki Ina and other incarcerees' calls to stop repeating history.[12] The next month, Oklahoma politicians announced that no migrant children would be brought to Fort Sill.[13] While these politicians didn't mention the protest as a factor, activists from the Japanese American community and other communities of color celebrated the news as a victory for their continuing political collaboration and peaceful direct action campaigns.
Fort Sill became more than just a site of the intersectional history of racism, colonialism, and trauma. It became an informal memorial to the power of shared historical memory, intergenerational and cross-community healing, and political coalitions.[14]
_____________________
Further Reading
Fujino, Diane C.  Heartbeat of Struggle: The Revolutionary Life of Yuri Kochiyama. Minneapolis: University of Minnesota Press, 2005.
Klein, Gene. "Confederate Monuments and Their Impact on the Collective Memory of the South and the North." Southeastern Geographer 61, no. 3 (Fall 2021): 241-257.
Yang, Alice. "Memories of Mass Incarceration: Mobilizing Japanese American Women for Redress and Beyond." In Our Voices, Our Histories: Asian American and Pacific Islander Women, edited by Shirley Hune and Gail M. Nomura, 173-188. NY: New York University Press, 2020.
Web Resources
Democracy Now! "Jail Migrant Kids at Fort Sill, a WWII Camp," June 24, 2019, Accessed June 10, 2022. https://www.youtube.com/watch?v=S7l1jga_R3o (last accessed 10 October 2022).
Ishii, Mike. "Solidarity Stories from Asian American and Pacific Islander Community Leaders, Asian American Leaders Table." Accessed June 10, 2022.  https://www.solidaritystories.org/mike-ishii (last accessed 10 October 2022).
Varner, Natalie. "Fort Sill is a Site of Ongoing Trauma," Densho, June 12, 2019, Accessed June 10, 2022. https://densho.org/catalyst/fort-sill-is-a-site-of-ongoing-trauma/ (last accessed 10 October 2022).
_____________________
[1] On February 19, 1942, President Franklin Delano Roosevelt signed Executive Order 9066 that became the basis for the mass removal and incarceration of the approximately 110,000 Japanese Americans living on the West Coast. Immigrants and citizens were imprisoned regardless of their prior backgrounds because, as the head of the Western Defense Command John L DeWitt told the press, "a Jap is a Jap." These Japanese Americans were held in temporary centers near their homes and then transferred to 1 of 10 barbed wire compounds in desolate locations run by the War Relocation Authority. Another 5,500 Japanese immigrants, who were arrested after the attack on Pearl Harbor, were held in INS detention stations and camps run by the Department of Justice. These DOJ camps also held over 2,200 Japanese Latin Americans who were labeled as "enemy aliens." In the 1960s Japanese Americans began calling for redress and a government commission concluded in 1983 that the removal and incarceration was the result of "race prejudice, war hysteria and a failure of political leadership." The commission's recommendation for a public apology and individual payments of $20,000 to surviving incarcerees, excluding Japanese Latin Americans, became law when the Civil Liberties Act of 1988 was signed by President Ronald Reagan.
[2] "Japanese-American Internment Survivors Protest Plan to Jail Migrant Kids at Fort Sill, a WWII Camp," Democracy Now! June 24, 2019, accessed June 10, 2022, https://www.youtube.com/watch?v=S7l1jga_R3o.
[3] Gene Klein, "Confederate Monuments and Their Impact on the Collective Memory of the South and the North," Southeastern Geographer 61, no. 3 (Fall 2021): 241-257.
[4] Mike Ishii is the descendant of Japanese American incarcerees. See "Mike Ishii, Community Organizer," accessed June 10, 2022, https://tsuruforsolidarity.org/who-we-are/.
[5] Chizu Omori, interview by Alice Yang, August 12, 2019. See also Natasha Varner, "At 90 years old, Chizu Omori is still fighting for justice," Densho, March 18, 2021, accessed June 10, 2022, https://densho.org/catalyst/at-90-years-old-chizu-omori-is-still-fighting-for-justice/. There is a growing body of literature on Japanese American activism in support of other people of color. For example, fears that the government might round up and imprison African American dissidents in detention camps during the 1960s galvanized the effort to repeal Title II of the McCarran Internal Security Act. Title II was repealed in 1971. Information on Yuri Kochiyama, one of the most famous activists for multiracial justice, can be found in Diane C. Fujino, Heartbeat of Struggle: The Revolutionary Life of Yuri Kochiyama (Minneapolis: University of Minnesota Press, 2005). See also Daryl Joji Maeda, Rethinking the Asian American Movement (New York: Routledge, 2011) and Judy Tzu-Chun Wu, Radicals on the Road: Internationalism, Orientalism, and Feminism during the Vietnam Era (Ithaca: Cornell University Press, 2013). After the September 11 terrorist attacks, Kochiyama and other Japanese American activists denounced the mistreatment of Muslim and Arab Americans and warned that the World War II injustice was being repeated. See Lillian Nakano, "Statement Delivered in Little Tokyo," September 28, 2001, accessed June 10, 2022, reprinted at www.aamovement.net and Japanese American Citizens League, "JACL on the 20th Anniversary of 9/11," September 10, 2021, accessed June 10, 2022, https://jacl.org/statements/jacl-on-the-20th-anniversary-of-911. Ongoing criticism of Islamophobia and calls to support undocumented migrants and Black Lives Matter feature prominently in Japanese American Day of Remembrance programs, candlelight vigils, pilgrimages to former incarceration sites, films, museum exhibits, and court briefs challenging President Trump's executive orders in 2017 banning immigration from 7 predominantly Muslim countries. See Lauren Matsumoto, "As We Stand Here on Land That Was Once Behind Barbed Wire, There Are Other Communities Behind Wire Fences," April 27, 2019, accessed June 10, 2022, https://manzanarcommittee.org/2019/06/03/lauren-matsumoto/; Stop Repeating History, "Who We Are," accessed June 10, 2022, https://www.stoprepeatinghistory.org/about-us; and Norman Mineta, "JANM Stands in Solidarity with Black Lives Matter," June 30, 2020, accessed June 10, 2022, https://www.janm.org/press/release/janm-stands-solidarity-black-lives-matter.
[6] Mike Ishii, "Solidarity Stories from Asian American and Pacific Islander Community Leaders, Asian American Leaders Table," accessed June 10, 2022, https://www.solidaritystories.org/mike-ishii. For more on the history and activism of Japanese Latin Americans, see Campaign for Justice: Redress Now for Japanese Latin Americans, "Who We Are," accessed June 10, 2022, https://jlacampaignforjustice.org/.
[7] "Japanese-American Internment Survivors," Democracy Now!
[8] Ben Fenwick, "Protesters Denounce Camp Plan for Child Migrants," New York Times, June 23, 2019.
[9] "Japanese-American Internment Survivors," Democracy Now!
[10] Mike Ishii, "Solidarity Stories."
[11] Mike Ishii, "Solidarity Stories."
[12] Ben Fenwick, "Protesters Denounce Camp Plan;" Molly Hennessy-Fiske, "Japanese Internment Camp Survivors Protest Ft. Sill Migrant Detention Center," Los Angeles Times, June 22, 2019; and Nicole Acevedo, "Japanese Americans Among Hundreds Protesting Plan to Detain Migrant Children at Fort Sill," NBCNews.com, July 20, 2019.
[13] Ken Miller, "Plan Halted to House Migrant Kids at Oklahoma's Fort Sill," Army Times, July 28, 2019.
[14] Two years later, some of these activists went to Fort Bliss, another Japanese American incarceration site, to condemn the detention of undocumented children by the Biden Administration. While the Biden Administration designated Fort Bliss as an "emergency intake and influx site" for migrant children because of the COVID-19 pandemic, activists criticized the government for not ending Trump's Title 42 policy allowing the expulsion of adults and families seeking asylum outside the US border until they could obtain a hearing. In April 2022, the Biden Administration stopped enforcing Title 42 but on May 20, 2022 Judge Robert Summerhays of the US District Court for the Western District of Louisiana issued a preliminary injunction preventing the termination of Title 42. See Suzanne Monyak, "Judge Puts Hold on Plan to Lift Title 42 Border Expulsion Policy," May 20, 2022, accessed June 10, 2022, https://rollcall.com/2022/05/20/judge-puts-hold-on-plan-to-lift-title-42-border-expulsion-policy/. 
_____________________
Image Credits
Paul Tomita, Minidoka survivor; Chizu Omori, 89, Poston survivor; Nikki Nojima Louis, Minidoka survivor, Kiyoshi Ina, Topaz, Tule Lake, Crystal City survivor; Satsuki Ina (same as Kiyoshi). Photo courtesy of John Ota.
Recommended Citation
Yang, Alice: "Never Again is Now:" Japanese American Protest at Fort Sill. In: Public History Weekly 10 (2022) 7, DOI: dx.doi.org/10.1515/phw-2022-20579.
Editorial Responsibility
Copyright © 2022 by De Gruyter Oldenbourg and the author, all rights reserved. This work may be copied and redistributed for non-commercial, educational purposes, if permission is granted by the author and usage right holders. For permission please contact the editor-in-chief (see here). All articles are reliably referenced via a DOI, which includes all comments that are considered an integral part of the publication.
The assessments in this article reflect only the perspective of the author. PHW considers itself as a pluralistic debate journal, contributions to discussions are very welcome. Please note our commentary guidelines (https://public-history-weekly.degruyter.com/contribute/).
---
Categories: 10 (2022) 7
DOI: dx.doi.org/10.1515/phw-2022-20579
Tags: Conflicts (Konflikte), Human Rights (Menschenrechte), Protest, USA, World War II (Zweiter Weltkrieg)