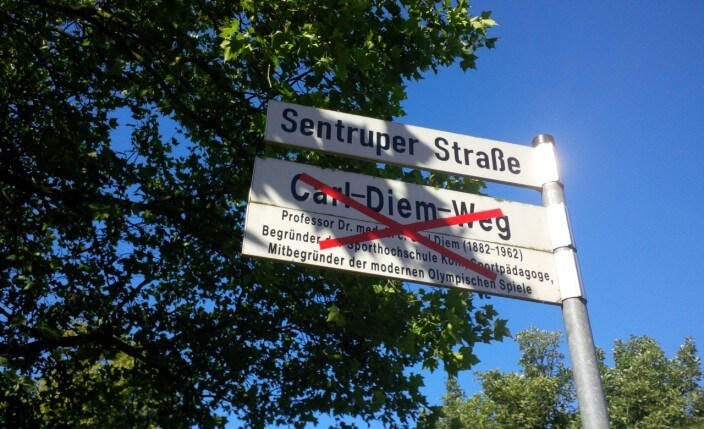 Abstract: Historische Orientierung gesucht! In öffentlichen und virtuellen Räumen werden derzeit hitzige Debatten über Straßenumbenennungen geführt. Gestritten wird um Fragen der Ehre und Tradition. Kommunale Geschichtspolitik trifft auf heterogene Geschichtsbedürfnisse.
DOI: dx.doi.org/10.1515/phw-2013-255.
Languages: Deutsch
Historische Orientierung gesucht! In öffentlichen und virtuellen Räumen werden derzeit hitzige Debatten über Straßenumbenennungen geführt. Gestritten wird um Fragen der Ehre und Tradition. Kommunale Geschichtspolitik trifft auf heterogene Geschichtsbedürfnisse.
Die Gleichzeitigkeit des Ungleichzeitigen
Vom Graseweg zur Bäckergasse – frühe Straßennamen sind dem alltäglichen Sprachgebrauch entlehnt und folgten den räumlichen Orientierungsbedürfnissen der StadtbewohnerInnen. Dies änderte sich im 19. Jahrhundert. Das expandierende Straßennetz wurde als symbolisches Instrument städtischer Geschichtspolitik entdeckt und in den Dienst politisch-ideologischer Identitätsstiftung gestellt. Entlang politischer Zäsuren wurden seither zentrale historische Orientierungsachsen wiederholt umbenannt – vom Schlossplatz zum Platz der Republik und zurück. Ebenso können Traditionsstränge im semantischen Netz der Stadt fortschrieben oder aber als Artefakte marginalisiert werden. Dem Flaneur erschließt sich die Gleichzeitigkeit des Ungleichzeitigen nur bedingt. Dagegen eröffnen jüngste Untersuchungen zu Straßennamenkorpora oder zu Diskursen um Straßenumbenennungen den Blick auf das historisch gewachsene Benennungs- und Identitätsprofil deutscher Städte und die damit verbundenen Geschichtsbilder und Wertorientierungen.
Wirklich neue Wege?
Während die Vergabe und Umbenennung von Straßennamen bislang ein Arkanum der Kommunalpolitik zu sein schien, erregt die Frage der Zukunftsfähigkeit städtischer Wegweiser zunehmend öffentliche Aufmerksamkeit. Ausgelöst von lokalen Debatten um "NS-belastete"-Straßennamen beginnt man nicht nur in Wien1 oder Münster2 mit der systematischen Erfassung, Analyse und Veröffentlichung der Straßennamenkorpora. Einerseits wird auf diesem Wege eine breit zugängliche Diskussionsgrundlage geschaffen: Biografien einst geehrter Namensgeber werden neu bewertet, die symbolische Bedeutung von Erinnerungsorten wird vergegenwärtigt und der Kontext der Benennung erhellt. Andererseits gewinnen weiße Flecken städtischer Erinnerungskultur, aber auch Muster der Marginalisierung gruppengebundener Traditionen an Kontur. Ob man dies als Demokratisierung städtischer Geschichtspolitik interpretieren kann, die auf Transparenz, Diskurs und Reflexivität setzt, bleibt abzuwarten.
Divergente Interessen
Überregionale Trends in der Benennungspraxis sind jedoch unübersehbar: Monumentalisches Erinnern weicht mit der Debatte um NS-belastete Straßennamen kritischer Identitätsreflexion. Mit ehrend-mahnender Erinnerung an die Opfer zweier deutscher Diktaturen aber auch deutscher Kolonialpolitik gewinnen Straßennamen als symbolische Form der Wiedergutmachung an Bedeutung.3 Aktuell erregt so in Hamburg die auf das Engagement von Bürgerinitiativen zurückgehende Wanderausstellung "freedom roads! Koloniale Straßennamen und postkoloniale Erinnerungskultur" öffentliche Aufmerksamkeit.4 Wie in Münster entdeckt städtische Geschichtspolitik die Straßennamen aber auch als ökonomisches Kapital. Der Hindenburgplatz wird zum Schlossplatz. Mit der Aura des Authentischen lockt man TouristInnen, betreibt city branding. Und jeder Monopoly-Spieler ahnt: Immobilienbesitzern verheißt die Adresse Wertsteigerung.
Entsorgung vs. Erinnerungsstolz
Im Feld der Kommunalpolitik ist die ehrende Funktion von Straßennamen unstrittig.  Umbenennungen werden gern als Ausweis eines städtischen "Geschichtsbewusstseins" inszeniert. UmbenennungsgegnerInnen prangern dagegen die Form der "Entsorgung der Vergangenheit" an, die in "Geschichtslosigkeit" münde.5 Mit analytischer Distanz kann man wie Götz Aly den Quellenwert des städtischen Schilderwaldes preisen – ein Friedhof der Ahnen, der die Selektivität und Vergänglichkeit historischer Deutungen demonstriert und damit den Zeitgeist jeder Schilderstürmerei offenbart.6 Andere sehen eine Geschichte "mit Ecken und Kanten" als didaktische Chance. Einst ehrende Zeichen würden so zu Mahnmalen gegen das Vergessen. Erläuterungstafeln unter Straßenschildern demonstrieren nicht zuletzt den "Erinnerungsstolz" der Gegenwart, beseelt vom Wunsch, dem gesellschaftlichen Lern- und Wandlungsprozesses Dauer zu verleihen.
Postmodernes Spiel
Die Debatte um die historische Orientierungsfunktion städtischer Straßennamen ist im Gange – viele Fragen sind offen: Ob und wie die "zerbrochenen Spiegel" deutscher Geschichte symbolisch repräsentieren? Hauptstraße oder Sackgasse – welche Räume öffnen für heterogene politische, religiöse, soziale und ethnische Identitätsbedürfnisse, für Mehrheiten und Minderheiten, unterschiedliche Generationen? Obsiegt die Ökonomisierung der Geschichtskultur? Sind Straßennamen zukünftig gewinnbringendes Kapital in den Händen des Stadtmarketing? Lehnen wir uns zurück, beobachten wir mit analytischer Distanz, wie das postmoderne Spiel mit Sinn und Bedeutungen nicht nur im virtuellen Raum,7 sondern auch auf unseren Straßen zu historischer Orientierungslosigkeit führt? Nein! Die Beschreibfläche ist limitiert. Mit Karl Schlögl bleibt "Namensgeschichte immer auch Herrschaftsgeschichte"8 und geschichtspolitischer "Straßenkampf" damit ein unverzichtbares Mittel kollektiver Identitätsvergewisserung.
_____________________
Literaturhinweise
Sänger, Johanna: Heldenkult und Heimatliebe. Straßen- und Ehrennamen im offiziellen Gedächtnis der DDR, Berlin 2006.
Pöppinghege, Rainer: Wege des Erinnerns. Was Straßennamen über das deutsche Geschichtsbewusstsein aussagen, Münster 2007.
Werner, Marion: Vom Adolf-Hitler-Platz zum Ebertplatz. Eine Kulturgeschichte der Kölner Straßennamen seit 1933, Köln/Weimar/Wien 2008.
Webressourcen
____________________
Abbildungsnachweis
(c) Saskia Handro. Im Jahr 2010 umbenannte Straße in Münster.
Empfohlene Zitierweise
Handro, Saskia: Seltsame Wege. Straßennamen heute. In: Public History Weekly 1 (2013) 4, DOI: dx.doi.org/10.1515/phw-2013-255.
Copyright (c) 2013 by De Gruyter Oldenbourg and the author, all rights reserved. This work may be copied and redistributed for non-commercial, educational purposes, if permission is granted by the author and usage right holders. For permission please contact the editor-in-chief (see here). All articles are reliably referenced via a DOI, which includes all comments that are considered an integral part of the publication.
The assessments in this article reflect only the perspective of the author. PHW considers itself as a pluralistic debate journal, contributions to discussions are very welcome. Please note our commentary guidelines (https://public-history-weekly.degruyter.com/contribute/).
---
Categories: 1 (2013) 4
DOI: dx.doi.org/10.1515/phw-2013-255
Tags: Extracurricular Activities (Außerschulischer Lernort), History Politics (Geschichtspolitik), Münster, Postmodernism, Street Names (Straßennamen)