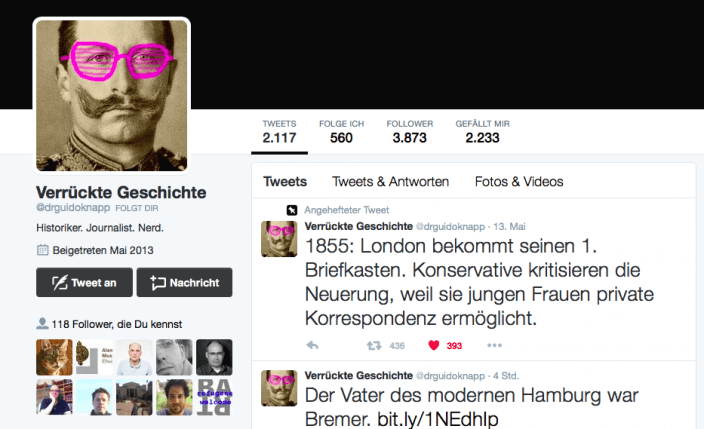 Abstract: "Weird History," [Verrückte Geschichte] otherwise known as "Dr. Guido Knapp," is a pseudonymous German-speaking Twitter account. Launched only a few years ago, the account has been presenting history-related knowledge and surprising historical facts to wide acclaim, with great public reach, and in a highly amusing fashion. "Weird History" is a prime example of frequently invoked "Digital Public History." Reason enough for Public History Weekly to explore this mysterious and yet public phenomenon.
DOI: dx.doi.org/10.1515/phw-2015-5088.
Languages: English, German
"Weird History," [Verrückte Geschichte] otherwise known as "Dr. Guido Knapp," is a pseudonymous German-speaking Twitter account. Launched only a few years ago, the account has been presenting history-related knowledge and surprising historical facts to wide acclaim, with great public reach, and in a highly amusing fashion. "Weird History" is a prime example of frequently invoked "Digital Public History." Reason enough for Public History Weekly to explore this mysterious and yet public phenomenon.
In what follows, we hear a surprisingly young man comment on an astonishingly mature and innovative project. The interview took place via Skype Chat on 5 December 2015. Although the interviewer and interviewee could see each other while talking, the Q & A below was minuted from the start. It was agreed that the interviewee's identity would be kept secret, a policy that we ask readers to understand. The interviewee describes himself as a "Historian. Journalist. Nerd."
The chat postings forming part of a response have been collated, but marked with ellipses to indicate omissions.
Web identity
MD: Your Twitter name is allegorical … how come?
"Weird History": I'm a great fan of Rainald Grebe.[1] He once wrote a song about Guido Knopp[2] that I liked a lot. And then, on holiday, thinking about my account, a pun suddenly occurred to me. Knapp [brief] = Knopp. History on the Web = Twitter … Somehow it fit.
MD: So it's not meant that ironically after all. What do you make of ZDF-Zeitgeschichte ("ZDF History")?[3]
"Weird History": Quite honestly, I haven't given it that much thought. I didn't think anyone would actually be interested … I'm still slightly addicted. We've all spent Sunday afternoons watching it … Much of it strikes me as too superficial, too tabloid, too sensational — and yet admittedly ZDF has contributed a lot to history education, to conveying history to a wider audience.
MD: So what about your Twitter avatar: Should we see this as Emperor William II of Prussia through rose-coloured glasses?
"Weird History": Well, a graphically talented friend of mine cobbled that together for me in two minutes. It's meant to suggest that I take history with a sense of humour … Which I thought Guido Knopp was lacking.
MD: Cue "anonymity." Is it important? Are you afraid of conflicts with your employers, present and future?
"Weird History": Anonymity was hugely important right from the start. For two reasons: first, if I'd used my real name, I'd have had all my journalist friends on my tails — I wanted to discover if I could build a fan base solely on content. Second, I actually didn't want my tweets to be linked to what I do professionally, namely, very serious history journalism. Now I don't see things quite as narrowly anymore… And as for future employers: it's actually an asset to have a successful Twitter account.
MD: I've tried to find your first tweet. Do you know when you posted it and what it was about?
"Weird History": [#berühmteletzteworte: "They couldn't hit an elephant at this distance," John Sedgwick, Union Army general in the American Civil War, 9 May 1864.] … Like so much else, this tweet was a byproduct of my daily work. … I found it witty, but it didn't fit the text I was writing at the time. So I dumped it on Twitter.
MD: So Twitter as "Steve's Surplus Sale"? A One Dollar Shop (laughs)
"Weird History": It's no coincidence that my account is so full of humour. Traditional media struggle with humour. … Yes, I call it my Twitter dump (laughs) … But I still try to maintain certain basic standards. For instance, no tweets without sources. There's a lot of rubbish out there.
MD: What prompted you to start "Weird History"?
"Weird History": A former office-mate and I used to shares funny pieces and "the fruits of our reading." Then he quit, and I asked myself, "Why don't I just put this stuff on the Web?"
MD: You seem to invest a lot of time in your Twitter account. Also because you're very communicative. How do you balance that with your work demands and your private life?
"Weird History": Actually, it's not as time-consuming as it seems. I simply go through life with a Twitter dredge. … And as a journalist I'm on Twitter anyway. … Besides, most of my friends are journalists, and they get the point.
Working method
MD: Let's turn to content, to your Twitter activity. You seem to draw on a huge collection of anecdotes, images, sources, citations … or are these merely birds that come flying?
"Weird History": Well, a lot actually just comes flying. Sometimes, though, I consciously delve into the undergrowth of Google Books to sniff out something. Particularly when I get wind of a current event — for instance, today's "refugee crisis."
MD: If you do a bit of self-analysis: are the sequence, selection, and formulation of your tweets sheer coincidence, or is there an underlying concept of sorts, however rudimentary?
"Weird History": After two years of trial and error, I've got a rough plan: I only tweet what I don't know myself; I tweet what has amused or surprised me. I try to establish some kind of mixture — so I don't just tweet anecdotes about beer wars and deranged despots, but occasionally also facts about current affairs.
MD: You mentioned the response to the "refugee crisis." What else moves you? Where would you locate your historical standpoint? … Do you see yourself as a kind of "fun guerrilla" of German public history?
"Weird History": Yes, that's right. I want to torpedo our self-image. … For instance, equal opportunities for women in Germany. … If Islam is accused wholesale of misogyny, I post tweets reminding readers that the Federal Republic only introduced an Equal Opportunities Act in 1957. … Which the churches rejected by the way. Mostly, though, I devote my time to the "weird history" and mad stories concealed within everyday life. I've tweeted about stop signs, just as I have about Pizza Hawaii, which was invented in Canada. By a Greek (laughs).
MD: So there's no secret personal archive that you use as an echolocation system? It's always ad-hoc research or mostly your work-related projects that lead you to information, images, and evidence that you use for your "weird history"? Well, all told, your tweets appear very regularly and in quick succession!
"Weird History": My "secret history" is a long list filled with the fruits of my reading. Fortunately, I read a lot — and even get paid for it, at least partly (laughs). For instance, I was recently researching the history of refugee camps. … The result was a very successful tweet about German refugee camps in Denmark.
MD: It seems to me that you'd win every television quiz hands down with your general knowledge …
"Weird History": Well, as it happens, I have (laughs). I've got a soft spot for Trivial Pursuit.
Media format
MD: Why Twitter? And not Instagram, Facebook, or a weblog? You'd have a far greater reach with Facebook?
"Weird History": Good question. First, I love Twitter. Second, I found it tempting to just have to write 140 characters. … A blog, though, is in the works.
MD: What do you make of re-enactment projects?
"Weird History": You mean medieval markets? … I lived in England for some time, where there's a very active scene (and where Second World War re-enactments are hugely popular). I've always found re-enactments amusing, but can't really tell how they improve our insights into history.
MD: What about digital re-enactments — "live-tweeting" historical events?
"Weird History": I liked having those projects that caught my eye, especially Digitalpast, on my timeline. … Dramaturgically, that worked out fine. Suddenly, I was "in history". Even if at the time some of these projects just went with the general, trivial Twitter flow.
Formative influences
MD: And one question you can't be spared: what were your history classes like at school? Do you think they influenced how you deal with "history" today?
"Weird History": The influences were very different. … In Grade 7, I had a hugely impressive history teacher — because he could tell stories. … His approach wasn't modern, but it was definitely extremely effective: he stirred my interest. And, as time passed, my demand for analysis grew. … The strongest influence, though, was doing a history degree in England. … It taught me that history can be well-founded and still "entertaining". … That one should aspire to make one's knowledge and insights accessible to laypersons. And that one's allowed to laugh now and then.
Future prospects
MD: Well, we're slowly coming to an end. What's next? What are your plans?
"Weird History": I want to launch a "Weird History" blog before the end of the year, so I can work out some stories in more detail. And there might even be a book project. But I can't talk about that yet. … But I'll certainly stick to history.
MD: What interests me in this respect: how does one turn a gift like yours into money? How can one make a living this way, or rather how does one fund Open Access "history"?
"Weird History": Currently, I'm subsidized by classical print journalism. I don't earn any money with "Weird History" (not that I ever intended to). … I simply sense how much interest there is in historical topics. …But I haven't yet come up with the masterplan.
Oh, by the way
MD: What would you say if I got a student to analyse and interpret "Weird History" … What would happen? What would be your working assumptions if you were wearing that student's shoes?
"Weird History": Now, you should definitely do that! I'd try to find out why some topics do better than others. I suppose that especially those tweets that capture the essence of our times strike a chord…. That my followers seek to discover their own times in history. Just as I do, probably. … And if your student is particularly clever, in the end he or she'd know that I have favourite sources, which I rummage through regularly… I'd definitely be interested in the findings! Particularly because I don't analyse my account; I'm just happy to keep it going.
MD: Thanks so much, honestly, for this enlightening chat! I sincerely wish our readers who are reading this on Christmas Eve a very "Merry Christmas". Please spare a moment to think of all those who are suffering from cold and hunger, or who must fear for their lives. Do so with a warm heart.
"Weird History": Thank you very much!
_________________
Web Resources
_________________
[1] Rainald Grebe: German songwriter and singer. See https://de.wikipedia.org/wiki/Rainald_Grebe (German, last accessed Dec 21, 2015).
[2] Guido Knopp: Very famous German history TV journalist. See https://en.wikipedia.org/wiki/Guido_Knopp (English, last accessed Dec 21, 2015).
[3] ZDF-Zeitgeschichte: Very popular German broadcasting editors with history related TV shows from one of the German main TV stations (ZDF), See http://www.zdf.de/zdf-history/zdf-history-5989332.html (German, last accessed Dec 21, 2015).
_____________________
Image Credits
© Verrückte Geschichte
Translated from German
by Dr. Mark Kyburz (http://www.englishprojects.ch/home)
Recommended Citation
The History-Mad, Dredge-Armed "Fun Guerrilla." An Interview "Weird History" [Verrückte Geschichte] by Marko Demantowsky. In: Public History Weekly 3 (2015) 40, DOI: dx.doi.org/10.1515/phw-2015-5088.
"Verrückte Geschichte" alias "Dr. Guido Knapp" ist ein pseudonymer deutschsprachiger Twitter-Account, der erst seit wenigen Jahren, aber sehr erfolgreich und mit großer öffentlicher Reichweite und auf eine ausgesprochen amüsante Weise geschichtsbezogenes Wissen und überraschende historische Fakten präsentiert. Bei diesem Account handelt es sich um ein Paradebeispiel der vielbeschworenen "Digital Public History". Grund genug also für Public History Weekly, diesem ebenso geheimnisvollen wie öffentlichen Phänomen nachzugehen.
Ein für mich überraschend junger Mann äußert sich hier zu einem erstaunlich reifen neuartigen Projekt. Das Interview fand am 5. Dezember via Skype© statt, und zwar mittels dessen Chat-Funktion. Die beiden Interviewpartner konnten sich sprechen und sehen, die Fragen und Antworten, wie sie hier dokumentiert werden, wurden aber gleichwohl von Beginn an schriftlich formuliert. Über die Identität des Interviewpartners wurde Stillschweigen vereinbart, wofür wir um Verständnis bitten. "Historiker. Journalist. Nerd" lautet seine öffentliche Selbstbeschreibung.
Einzelne Chat-Postings innerhalb einer Interviewantwort wurden hier zusammengeführt, aber jeweils mit Auslassungszeichen gekennzeichnet.
Netz-Identität
MD: Dein Twitter-Name ist eine Allegorie … warum diese?
"Verrückte Geschichte": Ich bin ein großer Fan von Rainald Grebe. Der hat mal ein Lied über Guido Knopp gemacht, das mir besonders gut gefallen hat. Und dann ist mir im Urlaub, als ich über meinen Account nachgedacht habe, plötzlich das Wortspiel eingefallen. Knapp = Knopp, Geschichte im Netz = Twitter. … Passte irgendwie.
MD: Also, dann ist das doch nicht sooo ironisch gemeint. Was hältst Du von ZDF-Zeitgeschichte?
"Verrückte Geschichte": Ich habe ehrlich gesagt, wenig darüber nachgedacht. Wusste ja nicht, dass sich irgendwann tatsächlich jemand dafür interessiert. … Ich bin ein wenig süchtig danach, immer noch. Wir haben doch alle schon unsere Sonntagnachmittage damit verbracht. … Vieles daran ist mir zu oberflächlich, zu boulevardesk, zu reißerisch – dennoch muss man anerkennen, dass das ZDF viel für die Geschichtsvermittlung gemacht hat.
MD: Und was hat es mit Deinem Twitter-Avatar auf sich: der WII mit rosa Brille?
"Verrückte Geschichte": Hat mir ein graphisch-begabter Kollege in zwei Minuten zusammengebastelt. Er soll zeigen, dass ich die Geschichte mit Humor nehme. … Das hat mir bei Guido Knopp nämlich gefehlt.
MD: Stichwort Anonymität. Ist das wichtig für Dich? Fürchtest Du Konflikte mit Deinem Arbeitergeber von heute oder morgen?
"Verrückte Geschichte": Die Anonymität war mir am Anfang extrem wichtig. Aus zwei Gründen: Erstens wären mir unter meinem Klarnamen sofort meine ganzen Journalistenfreunde gefolgt – ich wollte aber schauen, ob ich mir nur durch den Inhalt allein eine Fangemeinde aufbauen kann. Und zweitens wollte ich in der Tat nicht, dass man meine Tweets mit dem in Verbindung bringt, was ich beruflich mache, nämlich sehr seriösen Geschichtsjournalismus. Mittlerweile sehe ich das aber nicht mehr so eng. … Und was die Arbeitgeber von morgen angeht: Ist es eher ein Asset, einen gutgehenden Twitteraccount zu haben.
MD: Ich habe versucht, Deinen ersten Tweet zu finden. Weisst Du noch, wann Du ihn gesendet hast und worum es ging?
"Verrückte Geschichte": [#berühmteletzteworte: "Sie könnten nicht einmal einen Elefanten auf diese Distanz treffen". Bürgerkriegsgeneral John Sedgwick, 9. Mai 1864.] … Der Tweet war, wie so vieles, ein Nebenprodukt meiner alltäglichen Arbeit. … Ich fand das witzig, aber es passte nicht in den Text, den ich damals schrieb. Und da habe ich ihn eben bei Twitter abgeladen.
MD: Also, Twitter als "Rudis Resterampe"?
"Verrückte Geschichte": Es ist kein Zufall, dass mein Account so humorvoll ist. Die traditionellen Medien tun sich mit Humor schwer. … Ja, ich nenne es meine Twitter-Deponie. ;) … Gleichzeitig versuche ich, gewisse Mindeststandards zu erfüllen. Zum Beispiel: Kein Tweet ohne Quelle. Es ist viel Mist da draußen.
MD: Was war der konkrete Auslöser, mit "Verrückte Geschichte" anzufangen?
"Verrückte Geschichte": Ich habe mir mit einem Kollegen, mit dem ich mir das Büro geteilt habe, immer lustige Fundstücke und Lesefrüchte vorgelesen. Dann hat der Kollege gekündigt, und ich habe mich gefragt: Warum stelle ich das nicht einfach ins Netz?
MD: Du investierst offensichtlich viel Zeit in Deinen Twitter-Account. Vor allem auch deshalb, weil Du Dich dort kommunikativ verhältst. Wie vereinbarst Du das mit den Erfordernissen Deiner bezahlten Arbeit und Deinem Privatleben?
"Verrückte Geschichte": So viel Zeit ist es gar nicht. Ich gehe einfach mit meinem Twitter-Schleppnetz durchs Leben. … Und als Journalist ist man ja eh ständig bei Twitter. … Ja, und mein Freundeskreis besteht zum Großteil aus Journalisten, die haben dafür Verständnis.
Arbeitsweise
MD: Kommen wir zum Content, zu Deiner Twitter-Aktivität: Es handelt sich anscheinend um eine grosse Sammlung von Anekdoten, Bildern, Quellen, Belegstellen aus der Du schöpfst … oder sind das alles nur gleichsam zufliegende Spatzen?
"Verrückte Geschichte": Vieles fliegt mir tatsächlich zu. Aber manchmal gehe ich tatsächlich bewusst ins Unterholz von "google books", um etwas aufzustöbern. Gerade wenn ich einen aktuellen Anlass wittere – wie zum Beispiel die aktuelle "Flüchtlingskrise".
MD: Mit einem selbst-analytischen Blick auf Deine Tweets: Abfolge, Auswahl, Formulierung alles nur Zufall, oder gibt es da doch ein zumindest untergründiges Konzept?
"Verrückte Geschichte": Nach mehr als zwei Jahren trial&error habe ich einen groben Plan: Ich twittere nur, was ich selbst nicht wusste; ich twittere, was mich amüsiert oder überrascht hat. Ich achte auf eine Mischung – nicht nur Anekdoten über Bierkriege und verrückte Despoten – sondern auch ab und an Fakten, die eine aktuellen Bezug haben.
MD: Reaktion auf "Flüchtlingskrise" hast Du angesprochen. Was bewegt Dich noch? Wo würdest Du Deinen historischen Sehepunkt lokalisieren? … Verstehst Du Dich als so eine Art "Spaßguerilla" der deutschen Public History?
"Verrückte Geschichte": Ja, das stimmt. Ich möchte unser Selbstbild torpedieren. … Zum Beispiel was die Gleichberechtigung von Frauen in Deutschland angeht. … Wenn "dem" Islam allerorten Frauenfeindlichkeit vorgeworfen wird, dann erinnere ich mit meinem Tweets eben daran, dass die BRD erst 1957 ein Gleichstellungsgesetz verabschiedet hat. … Das die Kirchen übrigens abgelehnt haben. Meistens widme ich mich aber der "verrückten Geschichte", die sich in unserem Alltag verbirgt – über Stoppschilder habe ich ebenso getwittert wie über den Ursprung der Pizza Hawaii, die übrigens in Kanada erfunden wurde. Von einem Griechen ;)
MD: Also, es gibt kein persönliches Geheim-Archiv, mit dem Du sozusagen "echolotest". Es sind immer Ad-hoc-Recherchen zu Deinen Tweets oder eben meist zu beruflichen Projekten, die Dich zu Informationen, Bildern und Belegen führen, die Du für "Verrückte Geschichte" verwendest? Dafür kommen diese Tweets aber sehr regelmässig und in dichter Folge!
"Verrückte Geschichte": Mein "Geheimarchiv" ist eine lange Liste, die ich mit meinen Lesefrüchten fülle. Zum Glück lese ich enorm viel – und bekomme es zum Teil sogar bezahlt. ;-) Aber immer öfter mache ich mich auch bewusst auf die Suche. Zum Beispiel habe ich neulich mal die Geschichte von Flüchtlingslagern recherchiert. … Das Ergebnis war ein sehr erfolgreicher Tweet über die deutschen Flüchtlingslager in Dänemark.
MD: Man könnte denken, Du müsstest mit Deinem Allgemeinwissen bei jedem TV-Quiz abräumen …
"Verrückte Geschichte": Da triffst Du einen Punkt. … Das habe ich schon. ;-) … Ich habe eine gewisse Schwäche für Trivial Pursuit.
Medienformat
MD: Warum Twitter? Und nicht Instagram, Facebook oder ein Weblog? Gerade bei Facebook könntest Du doch deutlich mehr Reichweite erzielen?
"Verrückte Geschichte": Gute Frage. Erstens, ich liebe Twitter. Und zweitens fand ich es verlockend, nur 140 Zeichen schreiben zu müssen. … Aber ein Blog ist in Arbeit.
MD: Was hältst Du von Reenactment-Projekten?
"Verrückte Geschichte": Mittelaltermärkte? … Ich habe längere Zeit in England gelebt, wo die Szene ja besonders aktiv ist (und man gerne auch mal den Zweiten Weltkrieg nachspielt). Ich fand das immer lustig, aber kann jetzt nicht beurteilen, wie groß der Erkenntnisgewinn dabei ist.
MD: Und die neue digitale Spielweise des Reenactments – das historische "Live-Tweeten"?
"Verrückte Geschichte": Die Projekte, die mir aufgefallen sind, vor allem die Arbeit von Digitalpast hatte ich sehr gerne in meiner Timeline. … Das hat dramaturgisch tatsächlich gut funktioniert. Ich war plötzlich "in der Zeit". Obwohl sie manchmal im belanglosen Twitterstrom auch nur mitgeschwommen sind.
Vorprägungen
MD: Und, die Frage kann ich Dir nicht ersparen: Wie war Dein Geschichtsunterricht in der Schule? Glaubst Du, dieser Unterricht hat Auswirkungen darauf, wie Du heute mit "Geschichte" umgehst?
"Verrückte Geschichte": Sehr unterschiedlich. … Ich hatte in der siebten Klasse einen Geschichtslehrer, der mich sehr beeindruckt hat – weil er erzählen konnte. … Das war nicht modern, aber extrem effektiv: Er hat mein Interesse geweckt. Und mit der Zeit kam dann auch der analytische Anspruch. … Richtig geprägt hat mich aber mein Geschichtsstudium, das ich in England absolviert habe. … Von dort habe ich mitgenommen, dass Geschichte fundiert und zugleich "unterhaltsam" sein kann. … Dass man danach streben sollte, seine Erkenntnisse auch für interessierte Laien aufzubereiten. Und dass man bisweilen lachen darf.
Zukunft
MD: Wir kommen langsam zum Schluss. / Wie geht es weiter? Was sind Deine Pläne?
"Verrückte Geschichte": Ich möchte noch in diesem Jahr ein Blog namens "Verrückte Geschichte" starten, um manche Geschichten etwas länger auszuführen. Und eventuell steht sogar ein Buchprojekt an. Aber dazu kann ich noch nix sagen. … Bei der Geschichte werde ich aber bleiben.
MD: Das interessiert mich noch: Wie macht man aus einer solchen Begabung Geld? Wie kann man davon leben, oder auch: wie finanziert man "Geschichte" im Open Access?
"Verrückte Geschichte": Momentan subventioniert mich ja der klassische Printjournalismus. Mit "Verrückte Geschichte" verdiene ich kein Geld (und hatte es eigentlich auch nie vor). … Ich spüre nur, wie groß das Interesse an geschichtlichen Themen da draußen ist. … Aber den Masterplan habe ich noch nicht gefunden.
Ach, eins noch …
MD: Was denkst Du, wenn ich eine/n Studierende/n damit beauftragen würde, Deine "Verrückte Geschichte" analysieren und deuten zu lassen, … was würde herauskommen? Mit welchen Hypothesen würdest Du selbst starten, wenn Du Dich einmal in die Rolle eines/r solchen KandidatIn hineinversetztest?
"Verrückte Geschichte": Das solltest Du auf jeden Fall tun! Ich würde versuchen herauszufinden, warum manche Themen besser laufen als andere. Meine Vermutung wäre, dass vor allem jene Tweets funktionieren, die einen aktuellen Nerv treffen… Dass meine Follower auch in der Geschichte ihre eigene Zeit suchen. Und ich wahrscheinlich auch. … Und wenn er oder sie ganz schlau ist, wüsste er am Ende, dass ich natürlich Lieblingsquellen habe, die ich regelmäßig durchstöbere… Das Ergebnis würde mich in jedem Fall interessieren! Denn ich analysiere meinen Account ja nicht, ich bin froh, wenn ich ihn am Laufen halte.
MD: Vielen Dank für dieses aufschlussreiche Gespräch! / Und unseren LeserInnen, die das heute am christlichen Heiligabend lesen, wünsche ich von Herzen: Ein gesegnetes Fest. Und denken Sie vielleicht auch zumindest kurz und mit warmen Herzen an all diejenigen, die heute frieren, hungern oder um ihr Leben fürchten müssen.
"Verrückte Geschichte": Super vielen Dank!
_________________
Webressourcen
____________________
Abbildungsnachweis
© Verrückte Geschichte
Empfohlene Zitierweise
Historische "Spaß-Guerilla" mit Schleppnetz. Ein Interview mit "Verrückte Geschichte" von Marko Demantowsky. In: Public History Weekly 3 (2015) 40, DOI: dx.doi.org/10.1515/phw-2015-5088.
Copyright (c) 2015 by De Gruyter Oldenbourg and the author, all rights reserved. This work may be copied and redistributed for non-commercial, educational purposes, if permission is granted by the author and usage right holders. For permission please contact: elise.wintz (at) degruyter.com.
The assessments in this article reflect only the perspective of the author. PHW considers itself as a pluralistic debate journal, contributions to discussions are very welcome. Please note our commentary guidelines (https://public-history-weekly.degruyter.com/contribute/).
---
Categories: 3 (2015) 40
DOI: dx.doi.org/10.1515/phw-2015-5088
Tags: Digital Change (Digitaler Wandel), Humor, Interview, Twitter